With many musicians returning to the stage for the first time in months, violinist Cara Laskaris reflects on her own experiences to offer some words of advice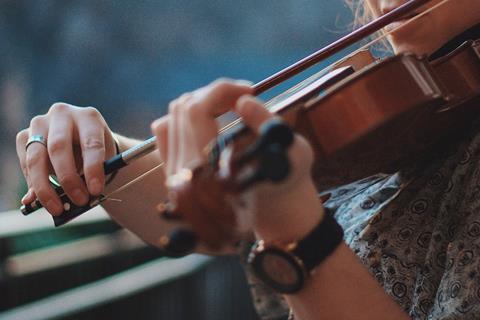 Lockdown and the lack of live concerts have presented performing musicians with a completely unprecedented set of circumstances. Some have relished the extra time to practise, throwing themselves into making music at home or online. For others, the fact that our industry has been decimated, with little prospect of a return to normality any time soon, makes the thought unappealing. These people have another hurdle to tackle: returning to playing after a prolonged absence.
A few years ago, following circumstances beyond my control, I went through this process myself, coming back to a career as a professional violinist after many months without playing. It can be easy to feel alarmed at the prospect of returning after a long break. Like an athlete who has not trained for months, I felt 'out of shape' and demoralised. However, I unexpectedly noticed real benefits to both my playing and my mindset on my return. I discovered that a break from playing can be a constructive and valuable experience and that it is wholly possible to come back better than ever, with a fresh perspective and unleashed creativity.
The first barrier was psychological. Many string players are, by nature, perfectionists, with high inner standards and self-expectations. Naturally, if you haven't picked up your instrument for some time, your playing might not sound or feel as proficient, polished and comfortable as you remember it. The instinctive response to this can be to stop and put the instrument down again. To put it bluntly, playing is not pleasant or enjoyable when it feels strange and does not sound how we hope or expect it to.
Read: 'That pre-performance adrenaline rush made me feel alive again' – Guy Johnston
Read: What does it feel like to give an online chamber concert?
Read: How to put on a live concert in the time of Covid-19
Read: Lawrence Power: life lessons from lockdown
I found it was important not to be too hard on myself, and not to try to run before I could walk. I realised that, although I had not been playing my violin, I had nevertheless been continuing to develop as a musician. My interpretations felt freer and clearer, and I had new perspectives on the music. Many things we have been doing during lockdown away from music also contribute to our growth and artistic development. Taking time to exercise, appreciate nature, and enjoy other forms of culture, as well as having space to do nothing – all these have the power to enhance our qualities as human beings and consequently as artists.
The comparison of musicians with athletes is helpful. Just as they cannot expect to run a marathon without regular training, little and often was also the key to rebuilding my muscle memory and physical stamina on the violin. I made sure I played every day, even just for ten minutes, and found the purity of Bach and the childlike joy of Mozart sonatas to be particularly healing and enjoyable.
I would also recommend playing through a book of studies that you have used before. Ideally it should be something relatively technically straightforward, but that nonetheless covers a variety of techniques and styles, and is musically fulfilling, such as Mazas's Etudes Speciales or Kreutzer's Etudes. I worked through books of familiar studies slowly and patiently over a couple of weeks; the muscle memory from hours spent practising them when I was younger reminded my hands what they needed to do.
Read: 10 ways to motivate yourself to practise during lockdown
Read: Running an educational chamber music programme remotely
Read: How are string soloists coping with the coronavirus lockdown?
I can honestly say that returning after a break unlocked new aspects to my playing and creativity. Away from the demands and pressures of a busy performance schedule, I was able to understand repertoire in a different way, and felt a new freedom in my interpretations.
Never again will you be able to hear yourself with such fresh ears, to feel the sensation of playing your instrument without being 'used to it'. This was my golden opportunity to iron out any engrained bad habits that I had stopped noticing. Areas of tension I had previously got used to were now immediately apparent, and practising in front of the mirror ensured that I returned with a balanced, relaxed posture.
None of us know when musical life will return to normal, but rebuilding your relationship with your instrument is always a worthwhile and ultimately hugely rewarding process. Music is a loyal friend who can sustain us, and those around us, through the most difficult of times.