Ahead of his streamed chamber music festival at Hatfield House, the British cellist shares his experience of performing for online broadcast during the lockdown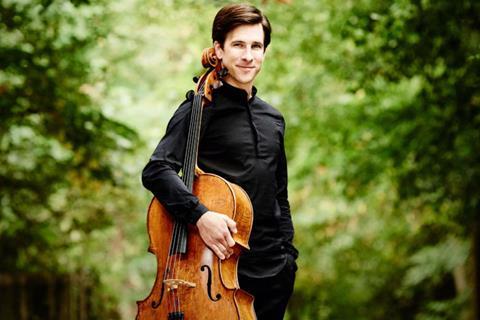 I have to confess that at the start of lockdown I had an unexpected sense of relief. In May I returned from my teaching commitments at Eastman School of Music in the US, after recovering from coronavirus, and welcomed a kind of enforced sabbatical - one which I had been imagining from time to time since the BBC Young Musician Competition in 2000.The idea of free time was initially rejuvenating. For the first time, I was able to decide how to structure my days, exploring new repertoire, walking outdoors in the countryside, resting (siestas have become a new way of life for me!), as well as reading a lot more than usual. I even took the opportunity to seek out therapy sessions - a real opportunity to reflect on life.
After two months, things began to stir again and the phone rang. I was invited to perform in the Wigmore Hall's lockdown series in June broadcast for the BBC and live streamed internationally. I felt honoured to be one of the first musicians to return and it gave me a new sense of purpose during a very uncertain time. I remember warming up backstage and seeing two of my mentors - Ralph Kirshbaum and Steven Isserlis - peering down at me and I couldn't help but be inspired and reminded of some of the wisdom they shared during my formative years. The adrenaline kicked in, and I remember lying on the floor with my heart pumping, noticing my breathing and trying to focus as deeply as possible on the music.
It had been at least 2 months since I last performed a concert and it was surreal walking into this cherished hall with no audience for a virtual concert. The silence was powerful, and the realisation of the pandemic we were living through hit me hard. It dawned on me how lucky I am to be a musician - to be able to connect with people through music. The thought of these moments being shut out of our lives is hard to bear, and it felt unique and special to be there performing for many people online during such a difficult time. It was a memorable experience performing works by Beethoven, Schumann, Mendelssohn and Chopin with my great friend, Melvyn Tan, who was partly responsible for introducing me to my wife!
I also started giving some socially distanced performances with friends and colleagues outside the Royal Oak pub in Cerne Abbas, Dorset, where I had been staying for most of the summer with family. There was something very special about putting on concerts for a small community and, like the Wigmore, it was a welcome reminder of the power of music in its ability to bring people together.
Read: What does it feel like to give an online chamber concert?
Read: How to put on a live concert in the time of Covid-19
Read: Lawrence Power: life lessons from lockdown
Knowing that the future of live concerts is uncertain, I also had to consider plans for my chamber music festival at Hatfield House. We abandoned the idea of planning for a live festival in September with or without audience and instead made the decision to put on three days of performances at the end of July to be filmed by Apple and Biscuit aired each Friday from 11 September to 2 October. This gave us an unique opportunity to reimagine the festival for viewers on their screens, to give them a peak behind the scenes at Hatfield House and through the eyes of its owners, the Salisbury family. We asked art historian, Dr Emily Burnes, to accompany Lord Salisbury around the different rooms where the concerts took place and discuss the art and history of Elizabeth I's childhood home. A chance meeting opened up the opportunity to invite Iestyn Davies and Elizabeth Kenny to perform songs by Dowland inspired by the Virgin Queen in the Long Gallery. The audience was just a small, intimate handful of family including Lord Salisbury's grandchildren.
It was a wonderful experience to be able to perform privately for the Salisbury family and friends in their home, and musician friends such as Kathryn Stott with Katherine Broderick, Melvyn Tan, Julian Bliss, and the Navarra Quartet were pleased to be playing again after so long. For most, it was the first time they had performed since March, and it was a joy to experience this moment together and to share music again in such an intimate setting.
Over nine years, we have built up a wonderful local audience and group of festival supporters. This year the challenge will be how to take these streamed concerts potentially to an even broader audience – to friends further afield from the US to Europe. The concerts on Youtube, Facebook and Instagram will be available for free and we hope that people will be impressed by how beautifully the concerts have been filmed – this was not filmed on an iphone! – and that they feel compelled to make a donation. It is certainly an investment for the Festival but it has provided musicians with a modest life-line.
Ten days ago, I performed live on air in the BBC studio on In Tune – one of the first sessions back in the BBC Studios since March. One almost forgets what it's like to feel nervous and, when that pre-performance adrenaline rush hit, it certainly made me feel alive again.
Read: 10 ways to motivate yourself to practise during lockdown
Read: Running an educational chamber music programme remotely
Read: How are string soloists coping with the coronavirus lockdown?
I've been grateful for all these experiences at a time when classical music remains muted. With a teaching position at Eastman School of Music in Rochester, New York, I feel particularly fortunate to have a salary for the first time in my life – what a blessing during uncertain times. I am also acutely aware of colleagues and friends who are longing for paid concerts to return and hoping for this current void of performances to end. We all feel this uneasy sense of hopelessness, especially when people need music, art and an outlet for expression more than ever. This period in history will inevitably shape the future of our musical lives, some no doubt for the better. There has been time to breath, to think about what matters most to us, and to learn how to cope in the face of adversity. I hope that our 10th anniversary of the Hatfield House Chamber Music Festival will be an opportunity for great celebration next year.
Ahead of the first stream on 11 September, here is a video of Johnston playing the first movement of Mendelssohn's Cello Sonata with Melvyn Tan, shared exclusively with The Strad.