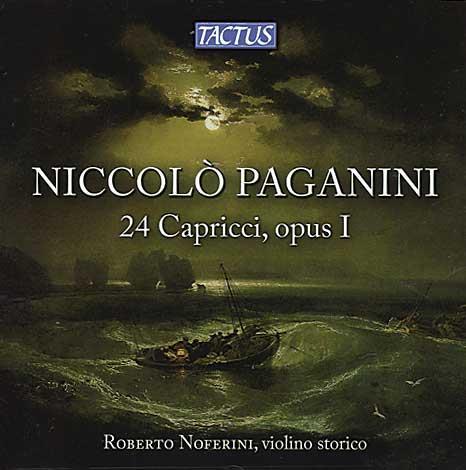 The Strad Issue: December 2014
Description: An effective attempt at 'authentic' Paganini let down by poor intonation
Musicians: Roberto Noferini (violin)
Composer: Paganini
I have reviewed some excellent recordings of Paganini's op.1 in my time, but this is the first to come my way using gut strings and an early 19th-century bow. Milan-trained Roberto Noferini writes worthily of 'philological research' to prepare this recording, restoring some of the textual aspects of the works from the manuscripts, and Mariarosa Pollastri's booklet note refers to the prospect of a performance 'that endeavours to get as near as possible to the magic of the "live† concerts of Paganini himself'.
The results are a mixed bag. Positively, Noferini's tone is rich and thick, with wonderful bow bite (especially in up-bow staccatos – as in nos.7 and 21), some unusual declamation going beyond 'traditional' lyrical interpretations (as in nos.6 and 11), and, in a very reverberant recording set-up, a convincingly close proximity to period acoustics. On the other hand, intonation is often very suspect – observable, sadly, from the very start – and employment of a modern-style vibrato makes this a stylistic hotchpotch in places, such as the start of no.22. Having said that, the recording is vibrant and human – one feels keenly the extraordinary feat in performing this supremely difficult work. Overall, this recording demands an active ear – with one, it proves an enterprising and highly effective interpretation.
David Milsom