Katya Tsukanova, 17, a former pupil of Zakhar Bron, died after a party in her parents' home in Kensington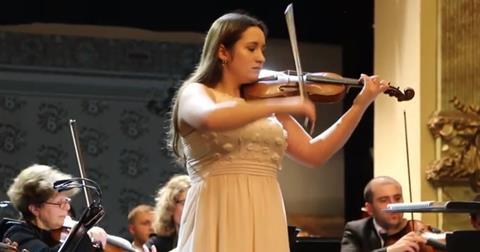 Katya Tsukanova was hosting a party for friends in June this year, a few days after turning 17, when she appears to have overdosed on a combination of drugs.
The Telegraph has reported that she had likely taken mix of cocaine and ketamine, and an inquest into her death will be held later this year to establish the exact cause of death.
Tsukanova was the daughter of Russian bankers and philanthropists Igor Tsukanov and Natasha Tsukanova. Together the couple run the Tsukanov Family Foundation which is involved in funding art and music projects. Natasha Tsukanova is also chair of the London Philharmonic Orchestra's board of governors.
Katya Tsukanova was born in 2002 in London and began learning violin and piano at the age of 5. She was accepted into the Royal College of Music's Junior Department in 2011, and in 2012 performed in Moscow with the Russias string orchestra Moscow Virtuozi, directed by Vladimir Spivakov.
From 2012 she began attending masterclasses with Zakhar Bron, and performed in his class concerts in Austria, Germany, Japan, Russia and Switzerland. She was a pupil at Wycombe Abbey school, where she held a music scholarship.
A week before her death she had performed in a mixed recital of Tchaikovsky works in the Royal Opera House's Crush Room with baritone Yuriy Yurchuk and pianist Sergei Rybin.
'My daughter was so happy,' Igor Tsukanov told the Telegraph. 'She had just performed at the Royal Opera House and she was planning for the future. She even had a board on her bedroom wall with all her concerts perfectly laid out. Then one morning I came in, and she was lying dead on the floor.'
Her funeral was held at the the Russian Orthodox Cathedral in London and a concert in her memory will take place on 11 August at the Suoni dal Golfo festival in Lerici, Italy, where her parents were patrons and she had performed in the past.
Zakhar Bron, Mone Hattori, Ellinor d'Melon and Katya Tsukanova perform Vivaldi in 2014