The French ensemble Trio Pantoum scooped first prize, including cash and future concert opportunities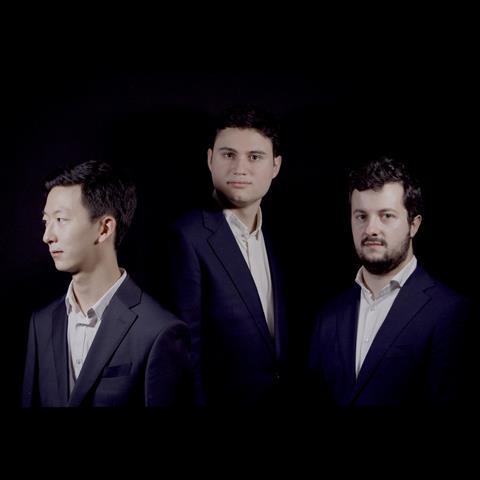 Read more news articles here
The final round of the Trio di Trieste competition was held on 12 September 2022. The Trio Pantoum, comprising pianist Virgile Roche, violinist Hugo Meder and cellist Bo-Geun Park took first prize, which included a cash prize of €9,000 from Samer & Co.Shipping in memory of Dario Samer.
With its performance of trios by Saint Saëns and Shostakovich, the trio also won the Anna Maria and Giorgio Ribotta special prize, worth €5,000, as well as a commemorative scroll awarded by the student jury from the Tartini Conservatory.
The first prize package also includes future concert opportunities in Europe, as well as a live recording to be used for online streaming.
Second prize went to the Orelon Trio, which received €5,000 from the Ernesto Illy Foundation. The trio also received the Dario De Rosa special prize, worth €2,000, for the best performance of a composition by Brahms.
The French piano-cello duo Okada-Quennesson Duo won third prize of €3,000, in memory of Renato Zanettovich. Trio Gaia from the US won the Fernanda Selvaggio special prize of €2,000, as well as a special mention from the jury.
Trio Pantoum was formed in 2016 at the Paris Conservatory. Previous competition success includes third prize at the Joseph Joachim International Chamber Music Competition in Weimar in 2022, a unanimous first prize at the FNAPEC European Chamber Music Competition in 2021, a second prize at the Illzach International Chamber Music Competition in 2019, and the Honour Prize of the Léopold Bellan International Competition in 2021. The trio was chamber music ensemble in residence at the ProQuartet-European Centre in 2021-22 and are currently artists in residence at the Queen Elisabeth Music Chapel in Belgium for the 2022-23 season.
The jury was chaired by violinist Salvatore Accardo and comprised Siavush Gadjiev, Amiram Ganz, Simone Gramaglia, Hila Karni, Radim Kresta, Volodymyr Lavrynenko, Alberto Martini and Antonio Valentino.
The Trio di Trieste competition has been held since 1996. The competition is open to ensembles in three categories: piano and violin, piano and cello and piano trio.