Star cellist Abel Selaocoe took home the Instrumentalist Award, while violist Timothy Ridout won the Young Artist Award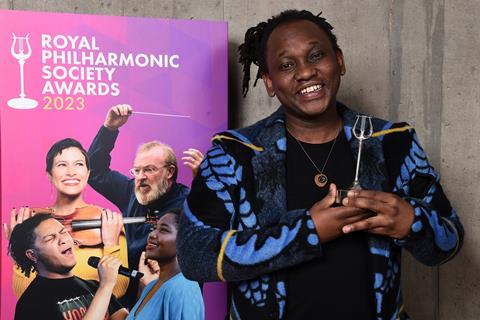 Read more news articles here
Classical music's national impact and worth was celebrated at the Royal Philharmonic Society (RPS) Awards, held at London's Southbank Centre on 1 March 2023. The awards commemorated classical artists and ensembles who were responsible for furthering the reach of classical music in society.
The event began with a solo performance by cellist Sheku Kanneh-Mason, who has drawn a huge following to classical music with over 300 million global streams to date.
South African cellist Abel Selaocoe received the Instrumentalist Award following the release of his debut album Where Is Home / Hae Ke Ke and performances drawing capacity audiences back to concert venues following the pandemic. He was nominated alongside violinist Elena Urioste and flute player Adam Walker. British violist Timothy Ridout received the Young Artist Award.
Organist and choral director Anna Lapwood received the Gamechanger Award for her artistry and advocacy, and her extensive social media following she has generated for classical music.
The Impact Award went to The Multi-Story Orchestra's production The Endz, created by a group of young people from Peckham who – following the death of fellow teenager Malcolm Mide-Madariola who was killed standing up for a friend in a knife fight – wanted to express their feelings and be heard through music.
Much in the headlines recently following Arts Council England funding cuts, the English National Opera was celebrated through the Conductor Award presented to its music director Martyn Brabbins.
Numerous ensembles were recognised for their work enriching lives throughout the UK with music. Manchester Camerata received the Storytelling Award for their film Untold - Keith charting the benefits of music for people living with dementia; Leeds Piano Trail received the Series and Events Award for brilliantly using music to entice over 200,000 people back to the city centre following the pandemic; and Manchester Collective received the Ensemble Award for their transformative performances attracting new audiences from Birkenhead to the BBC Proms.
In a headline speech, RPS Chairman John Gilhooly conveyed the urgent concerns and convictions of the music profession following Arts Council England's controversial funding review.
'Classical music policy and strategy is confused and all over the place – but our amazing resources and talents could work wonders if properly harnessed,' said Gilhooly. 'An occasion like this allows us to send a message to government that we must cherish our composers, our musicians, and our proud musical heritage'.
He called for a coordinated plan for live classical music and music education from government, saying 'The arts are central to the international standing and character of the nation and bring in over £110 billion annually to the economy. We showed through the pandemic that we are central to the wellbeing and prosperity of our national life. Music's worth has never been clearer. We need open, honest, and reasoned dialogue now with government and funders.'
Awards partner BBC Radio 3 will broadcast a special RPS Awards programme at 7pm on Monday 6 March, and available for a further month on BBC Sounds, giving audiences the opportunity to hear more music from this year's winners. A film of the RPS Awards presentation will be freely available to watch for one month on the RPS website from Thursday 9 March.