Two violinists win the top prizes, receiving $50,000 and $10,000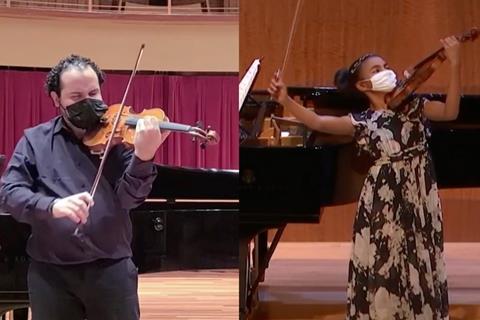 The annual Sphinx competition, which honours young black and Latinx classical string players, has announced the winners of this year's Senior and Junior Divisions.
The winner of the Senior Division (ages 18 to 30) is the 24-year-old Venezuelan born violinist Samuel Abraham Vargas Teixeira. He receives the $50,000 Robert Frederick Smith Prize, and several prestigious solo engagements with major orchestras.
The winner of the Junior Division (17 and under) is the 12-year-old Californian violinist Amaryn Olmeda, who receives a $10,000 cash prize, as well as solo engagements with major orchestras.
Vargas Teixera, who studied with Sergiu Schwartz at the Schwob School of Music at Columbus State University, has won awards including Concertmaster Ambassador of The United Nations 2014, Pin Artistic merit's city key of Prince George and Pin Central Bank in Canada. He is a former violin teacher at El Sistema and has performed with the Simon Bolivar Orchestra, Vancouver Symphony Orchestra, Prince George Symphony Orchestra, Venezuela National Philharmonic and Georgia Philharmonic, collaborating with artists such as Gustavo Dudamel, Simon Rattle, Daniel Barenboim, Luis Miguel Gonzalez and Christian Vasquez.
Olmeda, who is studying with Simon James and Ian Swensen at the San Francisco Conservatory of Music, has performed as a featured soloist with the Merced Symphony, Solano Symphony, MIM Youth Orchestra, Sacramento Youth Symphony Academic Orchestra, and the Sacramento Youth Symphony Premier Orchestra. In 2020, she was featured as the San Francisco Chamber Orchestra's Debut Artist at their New Year's Concert Series in San Francisco, Palo Alto and Berkley, California.
Read: Winners named in 2020 Sphinx Competition
Read: Six composers of colour to write new pieces to be performed by 24 orchestras

Read: Winners announced at 2019 Sphinx competition
Bassist Christian Gray (Winston-Salem, NC) received Second Place in the Senior Division and a $20,000 cash prize with cellist Luiz Fernando Venturelli (Praia Grande – São Paulo, Brazil) receiving Third Place and a $10,000 cash prize. Bassist Christian Gray won the Senior Division Audience Choice Award with a $4,000 cash prize.
In the Junior Division, violinist Jonathan Okseniuk (Mesa, Arizona) received Second Place and a $5,000 cash prize; violist Dillon P. Scott (Lansdale, PA) received Third Place and a $3,000 cash prize. Violinist Amaryn Olmeda also won the Junior Division Audience Choice Award.
Awards were determined by audience members texting in their votes. The Finals Concert was streamed on Saturday, 30 January. It is now available to replay on-demand on Sphinx's website and will air again on DPTV on 22 February 2021.
'I want to congratulate all of our artists who participated in our first ever virtual Sphinx Competition!' said President and Artistic Director Afa S. Dworkin. 'I continue to be deeply moved by the astounding talent and admirable citizenship among our artists. You inspire us with your artistic excellence and resilience! We greatly look forward to helping to empower your careers as you transform lives through the power of your artistry!'
Sphinx was founded in 1997 by Aaron P. Dworkin with the goal of addressing the underrepresentation of people of colour in classical music.