Two cellists take the top prize, receiving $50,000 and $10,000 respectively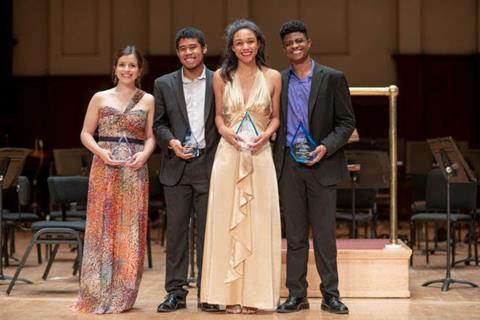 Over the weekend, Sphinx awarded more than $100,000 in prizes at the 22nd annual Sphinx Competition for young Black and Latinx string players. In the Senior Division, first prize went to 19-year-old cellist Sterling Elliott, who receives $50,000, performance opportunities with Sphinx Soloist Program Partners and instrument support. He was also the recipient of the $5,000 Audience Choice Award, sponsored by Mercedes-Benz Financial Services.
Violinist Adé Williams, violist Caleb Georges and cellist Laura Andrade were placed 2nd, 3rd and 4th and receive $20,000, $10,000 and $5,000 respectively.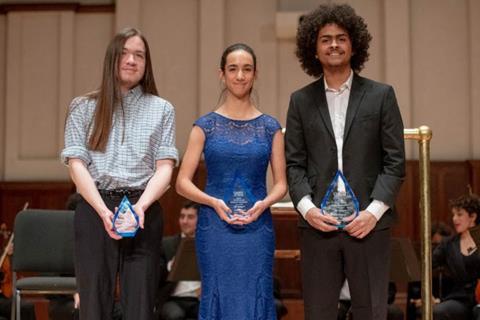 In the Junior Division, first prize went to 17-year-old cellist Nygel Witherspoon, who, in addition to performance opportunities and instrument support, receives $10,000.
Violinist Sophia Ayer was placed 2nd and receives $5,000, while 3rd prize of $3,000 went to Cellist Maxwell Remmer.
Elliott, who is currently studying with Joel Krosnick at the Juilliard School, has performed as a soloist with the New York Philharmonic and the Cleveland Symphony Orchestra amongst ensembles.
Further notable accomplishments include grand prize in the First Presbyterian Young Artist Competition and first place in the 2014 National Sphinx Competition.
He was selected as one among the 
most gifted young musicians in the world to study with Itzhak Perlman and Ronald Leonard at the Summer Perlman Music Program.
Witherspoon, a student at Minnesota Connections Academy, has already played as a soloist with the Minnesota Orchestra. He owes his musical education to his violinist brother Alastair, who saw a string quartet perform on television and convinced his parents to get him lessons. Sister Imala followed, before Nygel started with the same teacher when he was just three years old.
He switched to cello when the teacher moved away, as he had always said he wanted to play 'the big one'.
Held every year in Detroit, Michigan, the Sphinx competition is open to all Junior High, High School, and College age Black and Latinx string players residing in the U.S. Its primary goals are to encourage, develop and recognize classical music talent in these communities.