The Danish violinist Christine Bernsted wins $5000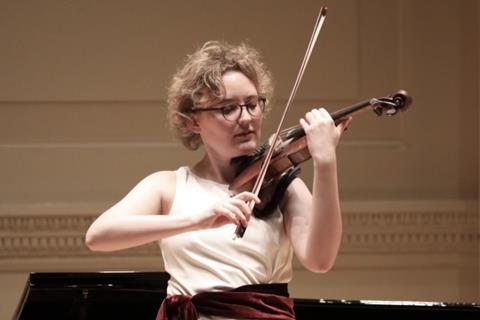 Following a final round in which three violinists performed a solo sonata or partita by Bach, the 1st prize at the inaugural Melbourne International Violin Competition has been awarded to Christine Bernsted. The 24-year-old Danish violinist, who played Bach's Partita No 2, receives A$5000 and a set of Nuraphone headphones.
Currently studying as a master student with professor Eszter Haffner at the Royal Danish Academy of Music, Copenhagen, Bernsted has already won first prize in four major competitions in Denmark this year. As a chamber musician, she has performed at prominent music festivals in Denmark such as Fanø Sommerkoncerter and Bornholms Musikfestival.
Bernsted's fellow finalists were Anna Dorothea Mutter from Germany and Edward Walton from Australia, who played the Second and Third Partitas respectively. Both won A$1000 each, with Mutter receiving a Bishop Instruments & Bows Award and Walton taking home the Hans Reiner Storz Memorial Award.
Established by the Melbourne violinist and entrepreneur, Jennen Ngiau-Keng, the Melbourne International Violin Competition sets out to support the practice and performance of solo Bach.
It has no age or citizen restriction and, uniquely, no adjudication panel for the finals. Instead, the city's leading musicians come together and vote anonymously for their favourite performance.
'I am very honoured to receive first prize as the adjudicating panel was so extraordinary and wide-ranging and since I have worked so intensively on my interpretation of the Partita No 2,' Bernsted told Limelight magazine.
'I greatly appreciate this award because I respect the large number of experienced musicians who rated my performance and personal interpretation. The fact that the competition has extended over such a long time, calling for the submission of a lot of material, has also meant that the first prize is mentally very rewarding.'