The panel of judges included trumpeter Alison Balsom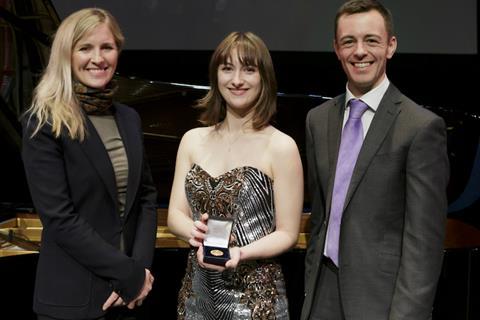 Following a showcase at the Southbank Centre's Purcell Room in London, Elena Abad has been announced as the winner of Trinity Laban's Gold Medal.
Her performance, which included Fritz Kreisler's colourful Recitativo and Scherzo, Op. 6 and her own solo violin of arrangement of Freddie Mercury's iconic Bohemian Rhapsody, also won her the newly introduced Audience Prize.
Abad, who recently completed her MA Music in Violin at Trinity Laban, was a Trinity College London Scholar, Violet Wright Scholar, Beatrice Taylor Scholar and Helen Roll Scholar.
The annual Gold Medal Showcase celebrates outstanding young Trinity Laban musicians. Competitors are nominated by the Heads of each of Departments within Trinity Laban's Faculty of Music for their exceptional musical flair and professionalism, and all receive a Trinity Laban Director's Prize for Achievement in recognition of this.
Last year's winner Iyad Sughayer has just recorded his debut album for BIS records, 2017 winner baritone James Newby is a BBC Radio 3 New Generation Artist, and 2015 winner soprano Nardus Williams has joined Houston Grand Opera Studio.
This year's edition saw seven students and recent alumni compete for the Gold Medal with a mix of classical, contemporary, jazz and musical theatre.
The finalists performing alongside Abad were Sayaka Aoki (Piano), Laura Barnard (Musical Theatre), Sahra Gure (Jazz Voice), Ben Ramsden (Composition), Anna Rea (Soprano), and Ewan Wright (Saxophone). Meanwhile, the panel of judges included Trinity Laban's Director of Music Havilland Willshire, Managing Editor of Classic FM Sam Jackson and trumpet player Alison Balsom.
Balsom commented 'What an honour to experience such a wonderful Southbank Centre concert – I almost forgot this was a competition. This was a staggeringly diverse evening of music with clever and creative programming. I don't think I've been to anything quite like this. How incredible people are when they do their job brilliantly.'