The students will perform as Harmony for Healing, raising funds for medical and humanitarian aid in Ukraine, on Saturday 12 March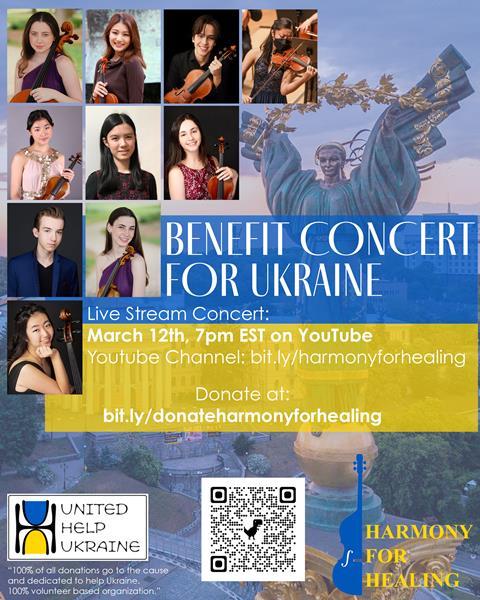 Harmony for Healing is a non-profit organisation that was formed in 2020 by twin sisters Bethany and Susanna Bobbs, who organised virtual concerts benefitting musicians negatively impacted by the pandemic.
Now switching focus to the Russian invasion of Ukraine, the organisation will hold a livestreamed concert on Saturday 12 March at 7pm EST to raise funds for United Help Ukraine, a volunteer-based organisation that provides medical and humanitarian aid to victims of the invasion.
Students from the Juilliard School and the Perlman Music Programme will perform works for strings and piano, including pieces by Wieniawski, Paganini, Dvořák, Sarasate, as well as many others.
Bethany Bobbs, a first-year cello student at Juilliard currently studying with Joel Krosnick and Astrid Schween, says the concert aims to raise $10,000 to fund the shipment of medical supplies and humanitarian aid to the people of Ukraine. 'We cannot stand idly by during this terrible tragedy, and I believe everyone must do their part to help in any way they can,' Bobbs told The Strad.
'This benefit concert is a way we young musicians can use our talent and hard work to help those in dire need.'
The concert will be available to watch on Harmony for Healing's YouTube page. Donations can be made here.
Musicians around the world have been using their talents to speak out against the actions of Russian president Vladimir Putin since the start of the invasion on 24 February. On Sunday, a flashmob of 200 musicians descended upon London's Trafalgar Square to perform Ukrainian works. Numerous arts organisations, venues and musicians have spoken out in solidarity with Ukraine, with many concerts commencing with the Ukrainian national anthem.