The initiative from Project: Music Heals Us will offer over $30,000 to arts organisations and ensembles to facilitate concerts for hospitalised patients across the US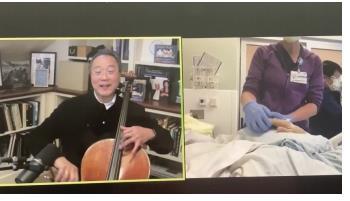 Project: Music Heals Us (PMHU) has announced an additional three $10,400 grants as part of its Vital Sounds Initiative to continue facilitating one-on-one digital bedside concerts to hospitalised patients across the US.
Launched in September 2020, the Vital Sounds Initiative has distributed over $80,000 in grants as artist fees to eight partnering arts organisations. Over the past year, the programme has offered over 1000 one-on-one virtual bedside concerts to more than 7000 patients in 25 hospitals nationwide. Numerous artists and ensembles have joined the cause, including Yo-Yo Ma, Time for Three, Miro Quartet and Emanuel Ax.
Cellist Ma remarks on his participation in the Vital Sounds Initiative: 'I can personally testify that when we're looking for meaning and purpose at a time when many of the usual avenues of expression are not open for us to explore […] this is actually one of the best things one can do as a musician during this crucial time when people need you.'
PMHU Directors Molly Carr and Andrew Janss remark on the Vital Sounds Initiative: 'With today's technology, PMHU and its musicians have been given a unique opportunity to provide a dose of humanity and community to hospitalised patients in isolation like no other time in modern history. Beyond the physical affliction and necessary medical precautions banning family and loved ones from hospital visitation, the pandemic has forced even the patients' own caregivers to often avoid prolonged physical exposure. This level of isolation is resulting in a mental health crisis for both patients and caregivers.'
Arts organisations, ensembles and artists are invited to apply from today here, with applications closing at 11.59pm ET 30 September. Recipients will be decided and announced by the end of October 2021.
Read: Guildhall School of Music & Drama granted £637,000 of Leverhulme Arts Scholarships
Read: LPO begins two-year digital residency with Marquee TV
Read: Global impact of Suzuki: The method and the movement