All proceeds from the concert will go directly to the International Rescue Committee, with all performers and helpers, including violinist Alina Ibragimova, giving their time for free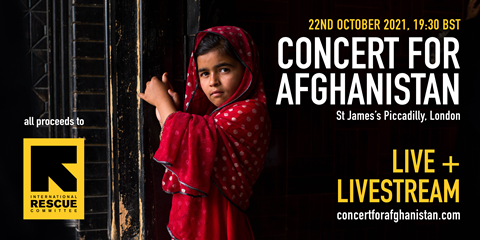 A fundraising concert for the crisis in Afghanistan will be held in London on 22 October at 7.30pm BST.
Concert for Afghanistan will take place at St James Piccadilly. Devised by Enrico Alvares, the concert's one mission is simple: 'To help'. The concert consists of international musicians and performers, who along with the sound engineers, production company and streaming company, are all giving their time for free. Presented by John Suchet, the concert programme will be:
Debbie Wiseman To Help (World Premiere)
Bach Concerto for Oboe & Violin in D Minor | Nicholas Daniel, oboe, Alina Ibragimova, violin
Mozart Flute Concerto No. 1 in G Major | Wissam Boustany, flute
Interval
Marcello Oboe Concerto in D Minor | Nicholas Daniel, oboe
Mozart Symphony No. 40 in G Minor | Conductor: David Murphy
The orchestra, led by violinist David Juritz, will consist of members and ex-members of top orchestras, including Academy of St Martin in the Fields, National Symphony Orchestra, Britten Sinfonia, Chamber Orchestra of Europe, London Philharmonic Orchestra, English Chamber Orchestra, Chineke! and London Symphony Orchestra.
Ticket proceeds will go directly to the International Rescue Committee for their continued ground work in Afghanistan. They have recently launched a $10 million appeal to raise much needed funds to aid those most vulnerable amidst the ongoing crisis in Afghanistan. These funds will go towards helping with vaccinating children, providing baby kits, emergency food, clean water, clothing and comfort kits.
Melanie Ward, UK Executive Director at the International Rescue Committee, said 'We are extremely grateful for all of the musicians dedicating their time and talent to this Concert for Afghanistan, as we are working relentlessly in Afghanistan to deliver urgent aid. Children and their families in Afghanistan are facing multiple threats to their lives and wellbeing. As we were just celebrating the International Day of the Girl, a few days ago, we need to do everything we can to ensure Afghan girls can continue their education'
More information and tickets can be found here. A livestream link will be available 24 hours before the concert date, with viewers strongly encouraged to donate.
Watch: Working from home: Thomas Gould gives a fundraising concert
Watch: Bach Double Concerto for New York City Health and Hospitals
Read: Vital Sounds Initiative announces grants for digital hospital concerts