Musician Stephen Morris describes shock as 310-year-old instrument is returned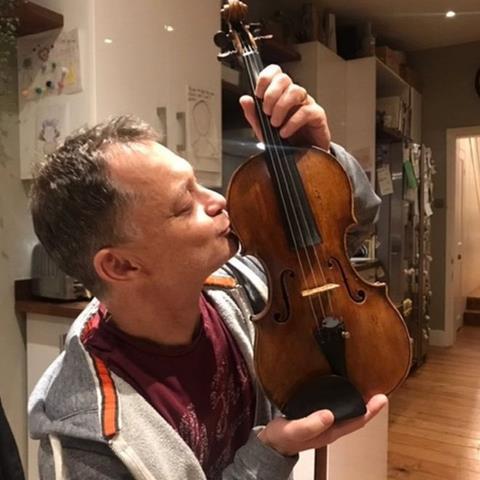 Stephen Morris reunited with his Tecchler violin
A violinist who left his 310-year-old David Tecchler violin on a train in London has spoken of his delight and relief after the instrument was returned to him undamaged.
Stephen Morris, a soloist, orchestra leader and session musician, Tweeted the news on Saturday, writing: 'My violin is home safe and sound! Thanks for the overwhelming support.'
The musician left the instrument on board the Orpington service when he alighted at his local station, Penge East, on Tuesday night. He told the BBC: 'I'd had a very busy week, I was tired and had finished very late at Abbey Road studios, and when I got off at my local station, I left the violin where I'd put it. I didn't realise until the following morning, which was a terrible shock.'
Read: Tecchler violin missing after being left on train in London
He reported the loss to British Transport Police (BTP) and Southeastern Railway, and the news sparked a widespread appeal for the instrument's recovery. Police subsequently released a CCTV image of a man they believed to be connected to the incident; on Thursday Morris received a message on his Twitter account offering information that could lead to the instrument's return. This led to a meeting in a supermarket car park in Beckenham where the instrument was handed over. Plain-clothes police officers were in attendance as a precaution.
BTP said it would be taking no further action against the man because he had taken reasonable steps to contact the owner and had handed it back.
'It becomes almost like part of your body,' Morris said of the Tecchler violin. 'The way it responds to the movement of the bow are unique to that instrument. You form a relationship with an instrument, and it takes years to get used to it.'
The violin, which Morris has owned since 2003, bears a label reading 'David Tecchler Liutaro - Fecit Romae Anno 170_'. Tecchler is considered the foremost maker of the Roman school. Though best known for the quality of his cellos, his violins are also highly valued. He was born in Germany in the late 1660s, moved to Rome as a young man, likely apprenticed to local maker Platner (also famed for his cellos), before going on to open his own workshop.