White takes up the role of professor of music in an intake of six new faculty members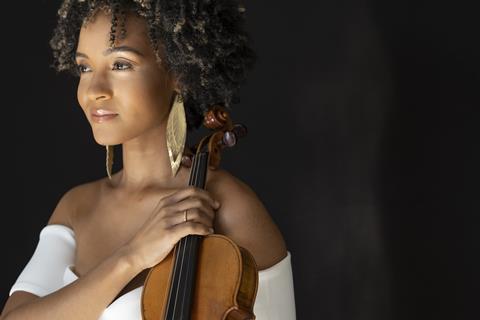 Read more news articles here
US violinist Melissa White has joined the department of music at the University of Buffalo (UB) College of Arts and Sciences. White also currently serves on the music artist faculty at New York University's Steinhardt School of Culture, Education, and Human Development.
White is a first-prize laureate in the Sphinx Competition and has performed with US ensembles including the Cleveland Orchestra, the Boston Pops, the Louisville Orchestra, and the Atlanta, Baltimore, Colorado, Detroit, and Pittsburgh symphony orchestras. Internationally, she has performed with Poland's Fillharmonia Dolnoslaska, the Columbian Youth Orchestra and the Czech National Orchestra. White has recently performed at London's Wigmore Hall with the Kaleidoscope Chamber Collective.
In 2006, White founded the New York-based Harlem Quartet, which became quartet-in-residence at Montclair State University in 2021, and has been the visiting quartet-in-residence at the Royal College of Music in London since 2016. Earlier this year, the quartet was announced as the Kaufman Music Center's 2022-23 artist in residence.
A native of Michigan, she holds performance degrees from the Curtis Institute of Music and New England Conservatory, where her teachers included Jaime Laredo, Ida Kavafian, Donald Weilerstein, and Miriam Fried. Her current instrument, 'Matilda,' was commissioned as part of a Sphinx MPower Artist Grant in 2014 by the American violin maker Ryan Soltis.
With fellow violinist Elena Urioste, White is the co-founder of Intermission, a series of programmes and retreats that unite body, mind, breath, and music-making through yoga and meditation.
White joins the UB music faculty along with five other new recruits, who are George Caldwell, professor of practice; Stephen Guerra, assistant clinical professor; Sungmin Shin, associate professor of practice; Robert Carl, 2022 visiting Slee professor; and Brendan Lanighan, adjunct professor.