The British violinist was the founding leader of the National Youth Orchestra of Great Britain in 1948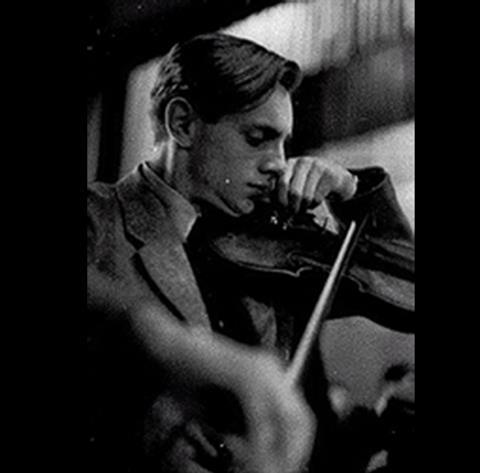 Read more news articles here
British violinist John Ludlow died on 29 September 2022 at his home near Shrewsbury. Throughout his life he worked as a an orchestral leader, educator and mentor.
Born in Birmingham in 1931, Ludlow came from a musical family; his father was leader and later conductor of the Birmingham Philharmonic Orchestra, while his mother was a viola player. He was educated at King Edward's School in Birmingham, then pursued musical studies at the RCM, with Henry Holst and Manoug Parikian.
In 1948 he was the founding leader of the National Youth Orchestra of Great Britain, an ensemble he continued to support throughout his life. In 2014, in a story that captured headlines across the nation, Ludlow loaned his c.1685 'Sauret' Stradivari violin, worth £1m, to then 18-year-old violinist Roberto Ruisi, recognising the similarities the two shared in their lives.
Following his National Service in the Army he joined the Royal Philharmonic Orchestra under the baton of conductor Sir Thomas Beecham. He was then appointed leader of what was the Sadler's Wells Opera Orchestra in 1957.
In the early 1960s he joined the BBC Symphony Orchestra, moving on to be co-leader of the Royal Opera House Orchestra. Ludlow's daughter Erica Malcolmson recalls a time when Ludlow had to perform a solo, during which legendary ballerina Dame Margot Fonteyn was dancing in Swan Lake.
'One day the leader was off, and he had to play the main solo,' Malcolmson told the Shropshire Star. 'When Dame Margot came off she asked who had played the solo. She was told it was John Ludlow. "I want him to play every time" she said.'
Leaving Covent Garden to enter the freelance world in the late 1960s, Ludlow played for Yehudi Menuhin's Bath Festival Orchestra, and also become co-leader of the London Mozart Players. He also led several orchestras such as the Guildford Philharmonic Orchestra with violinist Hugh Bean, the London Concert Orchestra and the English National Orchestra.
He returned to the RCM as a violin professor in 1970, where he remained in the post for 27 years. Malcolmson said her father had stopped playing 15 years ago, and had sold his Stradivari violin. 'From the day he stopped he refused to play another note. I think you get to the point where, as in any sport or art, you can't play as well as you used to and you want to stop before you go downhill, and because you no longer enjoy it.'
'He might have missed his former life but he remained as sharp and involved as ever, particularly when he served on the parish council,' said John Gray in Ludlow's eulogy. 'He wanted to promote the enjoyment of life. He aimed to make people feel happy and succeeded with his lively sense of humour.'
Ludlow is survived by wife Marilyn, daughters Erica and Anna from his first marriage to violinist Katie, three grandchildren, and two great-grandchildren.