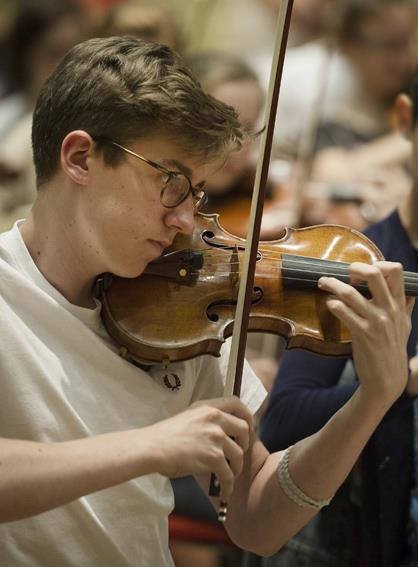 Roberto Ruisi, the 18-year-old concertmaster of the National Youth Orchestra of Great Britain (NYOGB), will perform on the c.1685 'Sauret' Stradivarius violin for the orchestra's final three concerts this season. The instrument, valued at £1m, has been loaned by 83-year-old violinist and teacher John Ludlow, who in 1948 became the NYOGB's first concertmaster.

The instrument is named after its former owner, violinist and composer Émile Sauret (1852–1920), who used it as his principal instrument for 35 years. It was then purchased by the violinist John Sheridan and came into the possession of W.E. Hill & Sons after Sheridan's death. In 1965 it was bought by Ludlow, who went on to lead the London Concert Orchestra and orchestras of the Royal Opera House and English National Opera, among others. He was also professor of violin at London's Royal College of Music (RCM) for 27 years.

Ludlow consented to loan the violin after discovering not only that Ruisi would be starting his studies at the RCM in the autumn, but also that he and Ludlow were born in the same part of Birmingham, and attended the same school. Ruisi became the NYOGB's youngest ever concertmaster when he was appointed in 2012 at the age of 15.

The violin can be heard at the orchestra's concerts in the Sage Gateshead (7 August), Symphony Hall, Birmingham (9 August) and the BBC Proms (10 August), where the programme will include works by Stravinsky, Prokofiev, Lutoslawski and Harrison Birtwistle.
Photo: Katja Ogrin