The violinist and new chief conductor of the Liverpool Philharmonic Orchestra shares his musical journey which began with the renowned music education programme El Sistema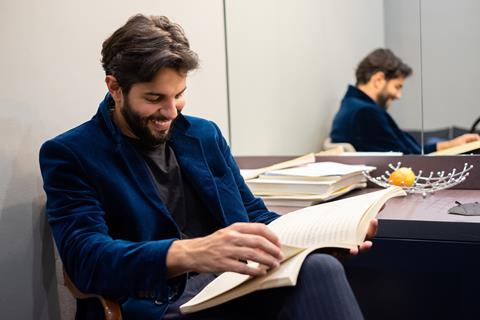 El Sistema is a social action music programme that was founded in Venezuela in 1975 by José Antonio Abreu. The programme offers musical ensemble participation from an early age, focusing on intensive and joyful music making as a vehicle for social development. El Sistema looks to offer opportunities for all and is routed in each local community, reaching over one million children around the country. I was also lucky to grow up in a musical household where my father taught me a lot (he studied at the Juilliard School under Ivan Galamain), and today I play his violin: a beautiful Sergio Peresson from the golden years. I also studied at the Latin-American Violin Academy, which is the most renowned violin school in Venezuela, under José Francisco del Castillo, and in Switzerland with the great pedagogue, Habib Kayaleh.
Working with young people is so important to me as I know how it benefits everyone that does it – I have experienced and seen it first-hand. I want to create a community where lifelong friendships are formed, and great fun is had all through the shared joy of making music together. You don't have to become a professional musician but making music teaches us how to be focused, to work hard, to do individual practice but also to work together as a team and to listen to one another. These are all invaluable skills that we can apply to all areas of our lives. This is what I want to bring to the students I work with.
I grew up playing in orchestras within El Sistema and the West-Eastern Divan Orchestra, and many more youth and professional orchestras. Playing side-by-side with the Liverpool Youth Philharmonic Orchestra (LYPO) is like going back to the roots. This is one of my favourite places for music making: inside the orchestra where we create the sound, and we enjoy the communication with our colleagues. I can't wait to perform with LYPO and to hear what they have in store.
I always try to keep my violin playing in shape, despite having little time. When we were in lockdown during the pandemic, I practised even more – it is always a joy to do. As a responsible orchestra player, I always study the tricky passages, and there are always some in the repertoire! I am ready for the concert.
Domingo Hindoyan swaps his baton for his violin as he plays side-by-side with the Liverpool Youth Philharmonic Orchestra in a programme of Beethoven, Piazzolla and Arnold on Saturday 20 November at 7pm
Read: Michael Barenboim's top 5 practice tips
Read: Flying high: an El Sistema inspired music education programme in China
Read: Globetrotting signed violin to raise funds for music education in Brazilian favelas