Violinist Randall Goosby and cellist Jonathan Swensen are the string players amongst the five recipients, who each receive $25,000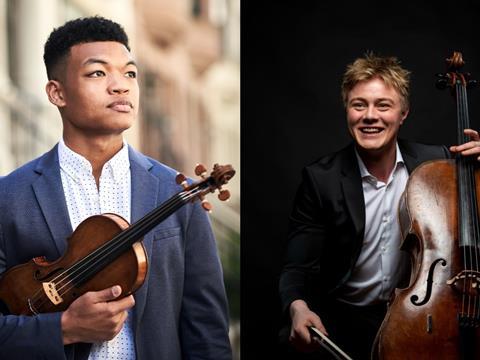 Five Avery Fisher Career Grants have been awarded for 2022. The recipients are Steven Banks, saxophone; Randall Goosby, violin; Ji Su Jung, marimba and solo percussion; Mackenzie Melemed, piano; and Jonathan Swensen, cello.
Each of the five grant recipients will perform for an invited audience, with the performances to be broadcast on Thursday 14 April 9pm and Saturday 16 April at 7pm at at www.wqxr.org.
Violinist Randall Goosby, 25, exclusively signed to Decca Classics in 2020, releasing his debut album Roots in 2021. He is the winner of the Sphinx Medal of Excellence and won first prize at the 2018 Young Concert Artists International Auditions. In 2019, he was named the inaugural Robey Artist by Young Classical Artists Trust in partnership with Music Masters in London, becoming an ambassador for Music Masters the following year.
Cellist Jonathan Swensen, 25, is a first prize winner of the 2018 Young Concert Artists International Auditions, 2018 Khachaturian International Cello Competition and the 2019 Windsor International String Competition. In his native Denmark he was also a recipient of the 2020 Musikanmelderringens Artist Prize, 2019 Jacob Gades Scholarship, 2017 Léonie Sonning Talent Prize and received first prize at the 2016 Danish String Competition.
166 Career Grants have been awarded since 1976. Previous string recipients include violinists Augustin Hadelich and Nadja Salerno-Sonnenberg, cellist Alisa Weilerstein and the Calidore Quartet.
Avery Fisher Career Grants of the Avery Fisher Artist Programme are designed to give professional assistance and recognition to talented instrumentalists, as well as chamber ensembles. Each recipient receives an award of $25,000, to be used for advancing a career.
Additionally, the Career Grant ceremony performances are professionally recorded for the recipients' unrestricted use, posted on the programme's website, webcast live and later broadcast and streamed by WQXR. Recipients also receive a custom designed rosette, given as an emblem of the Career Grant award.