The violinist is among one of the recipients of the award that celebrates exceptional classical musicians of colour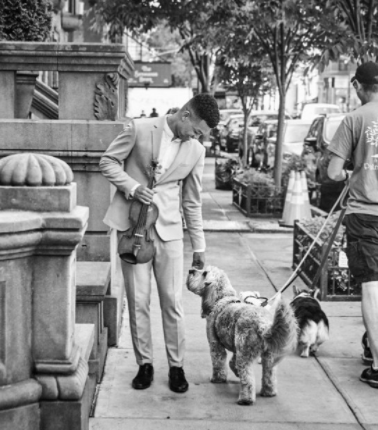 The Sphinx Organization has announced the three recipients of the 2022 Sphinx Medals of Excellence: pianist Michelle Cann, violinist Randall Goosby, and soprano Karen Slack.
The Sphinx Medal of Excellence is the highest honour bestowed by the Sphinx Organization which recognises extraordinary classical Black and Latinx musicians and comes with a $50,000 career grant. Recipients are artists who early in their career demonstrate artistic excellence, outstanding work ethic, a spirit of determination, and an ongoing commitment to leadership and their communities.
Violinist Randall Goosby, who has recently released his debut album 'Roots' stated, 'I am truly grateful for this award and opportunity from the Sphinx Organization, whose indelible influence on my musicianship has brought me to this point in my career. Participating in the Sphinx Competition over a decade ago opened my eyes to the potential for myself and other musicians of colour to make our mark on the world of classical music. I hope to continue making classical music ever more accessible to young musicians, especially those of colour, and amplifying the work of marginalised creators within this field'
A graduate of The Juilliard School, he continues his studies there, pursuing an Artist Diploma under Itzhak Perlman and Catherine Cho. Goosby is passionate about inspiring and serving others through education, social engagement, and outreach activities. He has worked with non-profit organisations such as the Opportunity Music Project and Concerts in Motion in New York City, as well as participating in community engagement programs for schools, hospitals, and assisted living facilities across the U.S. In 2020 he became an Ambassador for Music Masters, a role that sees him mentoring students in schools around the U.K.
The 2022 recipients will receive their medals on March 17, 2022 at a luncheon hosted by The Kennedy Center and a private black-tie dinner in Washington, D.C. Previous recipients include violinists Tai Murray and Elena Urioste, violinist and composer Jessie Montgomery and double bassist Joseph H. Conyers.
The Sphinx Organization is a social justice organisation dedicated to transforming lives through diversity in the arts.
Read: Randall Goosby: Roots
Read: New partnership between Music Masters and YCAT gets underway with a new series
Read: Violinist Randall Goosby signs joint management deal with HarrisonParrott and Primo Artists