The Memphis Symphony Orchestra member and prominent session musician passed away aged 84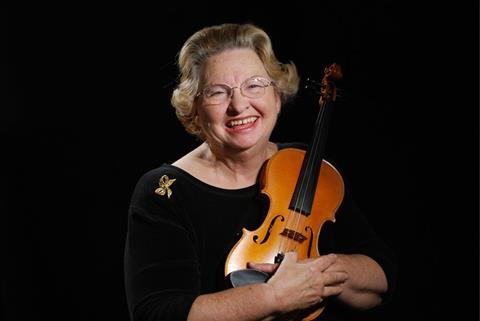 Violinist Ann Spurbeck, member of the Memphis Symphony Orchestra for 52 years, died on 17 January 2022. She had been suffering complications from ill health in recent weeks and passed with her son, violinist Sam Spurbeck, at her side.
Spurbeck was born to a musical family in Miami, where her mother was a church organist and pianist. She gained a bachelors degree in violin performance from the University of Florida, followed by a masters degree in music education from Indiana University.
Spurbeck had been the longest serving member of the Memphis Symphony Orchestra (MSO) upon her retirement last season, where she worked for 52 years. MSO personnel manager Erin Kaste, and stand partner to Spurbeck for many years, told the Memphis Commercial Appeal, 'Ann Spurbeck was the heart and soul of the Memphis Symphony for over 50 years.
'Every day she showed up for work with a smile and played every rehearsal and concert with joy and passion… She was a mentor to countless numbers of professional musicians in this community. She taught people how to succeed in an orchestra in a subtle, kind way.'
In addition to her orchestral work, Spurbeck contributed to many recordings produced in Memphis in the 1960s and 70s as a session musician. She played for Elvis Presley, Al Green, David Porter, and notably, Isaac Hayes's Theme from Shaft. The song became a no.1 hit in 1971, as well as earning an Academy Award for Best Original Song. 'Isaac Hayes was just about my favourite artist to work with,' Spurbeck said in a 2015 interview, 'He always greeted us in the studio with a smile on his face, letting us in through the front door, like we were the big deal on the record!
'He was so kind and down to earth. I used to see him in the grocery store sometimes and he'd say, "There's my friend Ann. Hi, Ann! How are you?"'
As well as teaching at the University of Memphis, as an advocate for the Suzuki Method and early childhood musical immersion, Spurbeck participated in the programme Art for Life's Sake, teaching violin to youths in low-income neighborhoods and rural communities.
She is survived by her sister and her son.