Japanese violinist Seiji Okamoto won first prize in the violin category final held on Sunday 12 September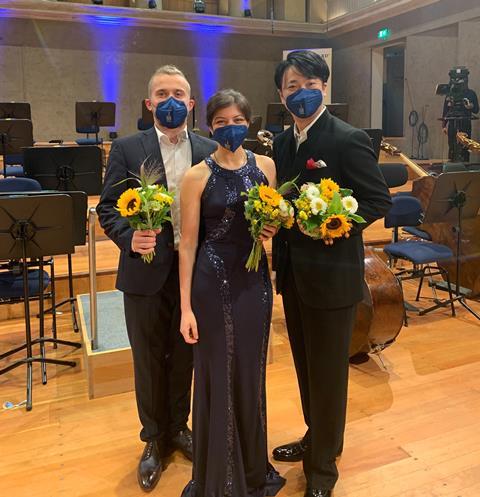 Seiji Okamoto has won first prize in the violin category of the 70th ARD International Music Competition in Munich. The 27 year old violinist wins €10,000 and many important concert engagements.
Second prize was awarded to Dmitry Smirnov (28) from Russia, and Alexandra Tirsu (29) from Moldova/Romania won third prize as well as the audience prize.
Okamoto is a graduate of the Tokyo University of the Arts and the University of Music 'Hanns Eisler' in Berlin and is currently studying at the Kronberg Academy. He has won prizes at the Wieniawski competition in 2016 and the Queen Elisabeth competition in 2019
The Covid-19 pandemic caused an unusual departure from the normal proceedings of the competition, with first rounds held online in June and July and the second rounds onward held live in Munich.Oswald Beaujean and Meret Forster, the two artistic directors of the ARD Music Competition, said: 'We are incredibly happy that all the musicians and jury members were able to travel to Munich and that we have successfully completed this huge competition, and at such a high level.'
Held since 1952, the ARD International Music Competition hosts competitions in various categories, those in 2021 being piano duo, voice, horn and violin. Previous string prizewinners include Yuri Bashmet, Christian Tetzlaf and Bomsori Lee.
Read: Finalists announced at Shanghai Isaac Stern International Violin Competition
Read: Maria Ioudenitch wins Tibor Varga International Violin Competition 2021
Read: 'I have never entered a competition hoping to win' - Emma Wernig