The Mriya Exile Orchestra, comprising of refugees and Ukrainian musicians, will perform a benefit concert on 10 May 2022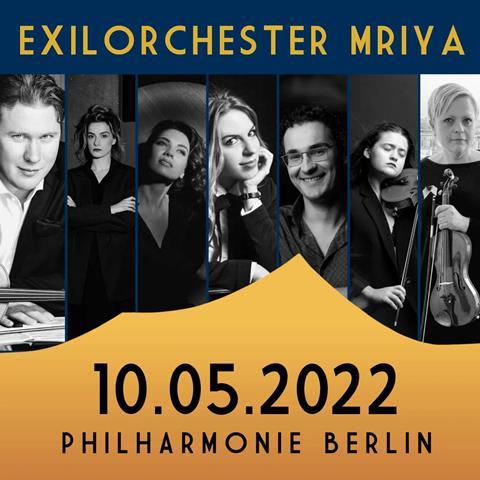 Following a debut in Hamburg last month, the Mriya Exile Orchestra will perform a display of Ukrainian culture in the Berlin Philharmonie on 10 May at 8:00PM.
Margaryta Grynyvetska, the conductor of the Opera and Ballet Theatre Odesa, will direct the ensemble, which will accompany Ukrainian soloists including pianists Kateryna Titova and Artem Yassynskyy, violinists Andrej Bielow, Varvara Vasylieva and Hanna Tsurkan, and violist Kateryna Suprun.
The performance will include works by renowned Ukrainian composers such as Mychajlo Werbyzkyj, Myroslaw Skoryk and Valentin Silvestrov, as well as pieces by Bach, Elgar, Mozart and Lutosławski.
Admission for refugees is free of charge, with all ticket proceeds going towards medical aid for war victims.
The Mriya Exile Orchestra is made up of newly-arrived refugee musicians in Germany. Through Alliance4Ukraine, it aims to allow musicians to continue their professional activities in collaboration with local charities and German orchestras.'We want to give Ukrainian artists the opportunity not to give up, to create, and to give listeners and the public a sense of Ukrainian culture.'
More information and tickets are available here.