Jamal Aliyev, Jonathan Swensen and Mathilde Milwidsky will perform in tomorrow's final, held in the Waterloo Chamber of Windsor Castle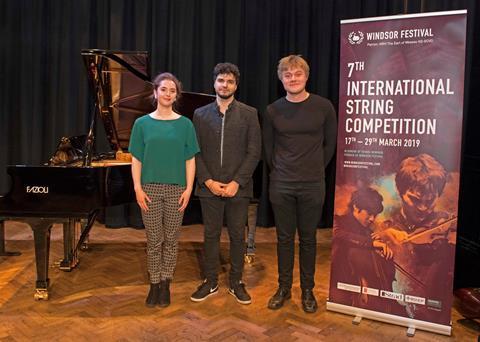 The Windsor Festival International String Competition has named its three finalists. They are:
Jamal Aliyev (Cello)
Mathilde Milwidsky (Violin)
Jonathan Swensen (Cello)
All three have previously featured in The Strad, with Swensen winning the Khachaturian International Competition, Aliyev winning the Musicians' Company Prince's Prize, and Mathilde Milwidsky reaching the semi-finals of the Joseph Joachim Competition.
The final will take place tomorrow, Friday 29 March, in the Waterloo Chamber of Windsor Castle. The winner will return to the same venue for a concert on 18 September 2019 with the Philharmonia Orchestra as part of the 50th Windsor Festival.
The first prize also includes a £5,000 cash award, a contemporary bow to the value of £5,000 from Bishop Instruments & Bows, and a solo recording on Champs Hill Records, as well as further performance opportunities.
This year's jury includes violinist Pierre Amoyal, violist Worlfram Christ, cellist David Strange, Philharmonia Orchestra managing director Helen Sprott, Decca Records executive producer Alexander Van Ingen, and Windsor Festival director Martin Denny.
Open to international violinists, violists and cellists aged between 16 and 26, the biennial event's previous winners include Nathan Meltzer (2017), Ji Yoon Lee (2015) and Benjamin Baker (2013).