17-year-old Latvian violinist Daniil Bulayev won 1st prize of £5000, a recording deal and future concerto and recital engagements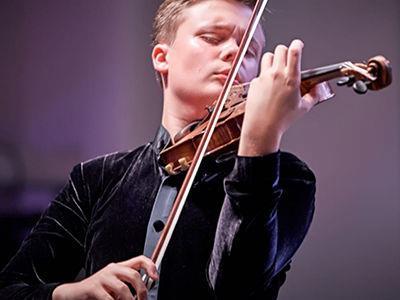 The prize winners of the 8th Windsor Festival International String Competition have been announced. They are:
1st and audience prize: Violinist Daniil Bulayev (17, Latvia)
2nd prize: Violinist SongHa Choi (21, South Korea)
3rd prize: Violist Otoha Tabata (21, Japan)
Bulayev won 1st prize after his final round performance of Poulenc Sonata for Violin and Piano and Sibelius Violin Concerto. He wins a £5000 cash prize, a solo CD recording deal with Champs Hill Records, a concerto performance with the Philharmonia orchestra in 2022 as well as future recital engagements. Choi and Tabata won £2000 and £1000 respectively.
The final jury consisted of violinists Clio Gould and Martin Outram, cellist Jo Cole, Martin Denny and Alexander Van Ingen.
Bulayev is a current student of Professor Petru Munteanu (Leopold Mozart Centrum, Germany) and Nelly Sarkisyan (E. Darzin Music College, Latvia). Already enjoying an international solo career at the age of 17, he has appeared with orchestras including Stuttgart Chamber Orchestra, the Glasperlenspiel Sinfonietta, Kremerata Baltica, Sinfonietta Riga and the Salzburg Chamber Soloists. Previous competition successes include 1st prize at Il Piccolo Violino Magico, (2017, Italy), 1st Prize at the Leonid Kogan International Violin Competition (2019, Belgium) and 1st Prize at the Kloster Schöntal 18th International Violin Competition (2019, Germany).
Inaugurated in 2008, the Windsor Festival International String Competition is occurs biennally, with the 2021 edition held digitally due to the Covid-19 pandemic. Previous winners include cellist Jonathan Swensen, violinists Nathan Meltzer, Jiyoon Lee and Benjamin Baker.
Watch Bulayev's winning performance here:
Listen: The Strad Podcast Episode #3: Benjamin Baker on performing solo Bach
Read: A Royal Occasion – Postcard from Windsor