The Félicité Piano Trio won the Leamington Music Prize on 21 March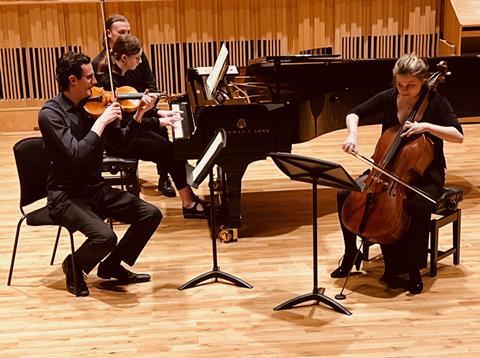 Performing a programme of works by Lili Boulanger and Clara Schumann, the Félicité Piano Trio have come out on top of seven ensembles to win the Leamington Music Prize. The competition is held annually at the Royal Birmingham Conservatoire since its inception in 2009.
The trio consists of violinist Ricardo Brown Roger, cellist Lucy Samuels and pianist Lucy Eccleshall, who are all students at the Royal Birmingham Conservatoire. Samuels has been awarded the position of inaugural student-in residence with the Royal Ballet Sinfonia, while Eccleshall plans to publish a piano method book later this year.
The Leamington Music Prize consists of a cheque of £1250 for the trio and a performance opportunity as part of the Leamington Music winter concerts series.
Festival director Richard Phillips said, 'Over the years, we at Leamington Music have been pleased to support many talented musicians from the Conservatoire. They have been from various parts of the world, and we try to help them not only with actual concerts, but advice on marketing themselves and securing further work. The prize money has very sensibly been used on occasions to attend courses which broaden experience.'
Launched in 2006, Leamington Music promotes the annual Leamington Music Festival which takes place over the first bank holiday weekend in May, a winter season of concerts with a monthly series of string quartets in Leamington and early music in Warwick. It also has an education programme in association with Warwickshire Music.