With no first prize awarded, Trio Bohémo and Trio Incendio tied at second place while Trio Pantoum took third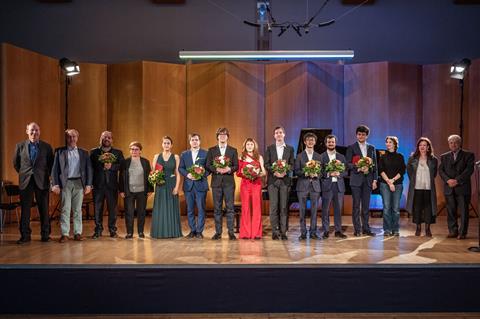 On 9 April at the Franz Liszt Academy of Music in Weimar, Germany, three piano trios were awarded the top prizes at the 9th International Joseph Joachim Chamber Music Competition. A total of 17 piano trios and string quartets from around the world competed for the competition's prizes, totalling over €20,000. No first prize was awarded, with the Trio Bohémo and Trio Incendio, both from the Czech Republic, taking joint second prize. Each received €5,000.
The Trio Bohémo, who also won the special award for the 'early classic' category worth €1,000, was found in 2019 and consists of pianist Jan Vojtek, violinist Matouš Pěruška and cellist Kristina Vocetková. All members are originally from the Czech Republic but met and formed in Budapest, Hungary. They are currently members of the European Chamber Music Academy (ECMA) and have won several international competitions including the 2021 International Johannes Brahms Competition in Austria.
The Trio Incendio, also from the Czech Republic, comprises pianist Karolína Františová, violinist Filip Zaykov and cellist Vilém Petras. Together with second prize, they also won the special award for best performance of a work composed after 1970, worth €1,000. They formed in 2016 at the Academy of Performing Arts in Prague, Czech Republic. They are also members of the ECMA and have performed in venues such as the Wigmore Hall and Philharmonie Berlin.
Third prize and €2,500 was awarded to the French Trio Pantoum, while a special prize worth €1,000 for 'particularly talented ensemble' went to the Dutch Animato Quartet.
Since 1996, the Joseph Joachim Chamber Music Competition has taken place every three years. Organised by the University of Music Franz Liszt in Weimar, the competition celebrates young, up-and-coming chamber ensembles under the average age of 32. Ensemble include string trios and quartets, and piano trios and quartets. The competition tests the ensembles on a diverse range of repertoire, from baroque to contemporary works. It is dedicated to and named after violinist, conductor and composer Joseph Joachim, with whom Franz Liszt played in the Liszt-Joachim-Cossman piano trio in the late 19th century. The competition celebrates Joachim's contributions to chamber music and his legacy as one of history's most prolific violinists.