Opera for Ukraine will raise funds to go towards the Ukrainian Institute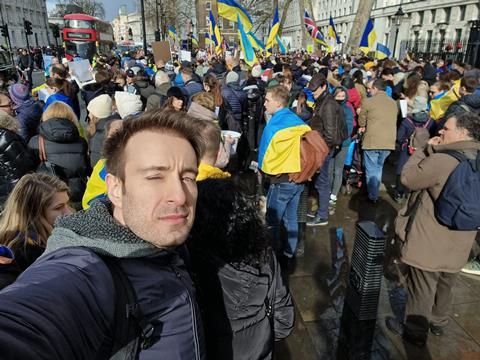 Read more news articles here
On Sunday 16 October, Opera for Ukraine will be held at Clapham Omnibus to raise funds for the ongoing crisis in Ukraine.
Royal Opera House principal artist and Ukranian baritone Yuriy Yurchuk will be joined by Armenian soprano Anush Hovhannisyan and pianist Ed Battling for an evening of featuring a programme of much-loved arias and crowd favourites. Yurchuk was spurred into action to arrange the benefit concert after his home town of Kyiv was recently targeted by missile strikes.
'This is going to be a very difficult winter in Ukraine, and people there will need our attention and help like never before,' said Yurchuk, whose family still lives in Kyiv. 'Leonard Bernstein once said: "This will be our reply to violence: to make music more intensely, more beautifully, more devotedly than ever before." So we should do what we do well - make music, to rally help and recourses, to save, to support in this dire hour of need.'
After years working as a financial advisor in Chicago, Yurchuk studied vocal performance at DePaul University School of Music, going on to win competitions in the US, Norway, Spain and Italy. He was then invited to join the Royal Opera House Young Artist Programme in London. Yurchuk has performed in La Traviata for Northern Ireland Opera at the Grand Opera House in Belfast, and is set to perform in the lead role in Eugene Onegin for National Theatre Tokyo and La Monnaie in Brussels.
All net proceeds from this event will be donated to the Ukrainian Institute, which champions Ukrainian culture, going beyond the headlines to shape the conversation about Ukraine. Since the launch of Russia's full-scale invasion of Ukraine in February 2022, the Institute has been working to give Ukraine a reliable voice in UK and world media, to respond to a constant stream of enquiries and to maintain its events programme, educational courses, cultural initiatives and support for displaced Ukrainians. The Ukrainian Institute London is an independent charity, and relies on donations to keep up its work.
The concert will take place at 7PM on Sunday 16 October at Clapham Omnibus. For more information and to book tickets, visit https://www.omnibus-clapham.org/opera-for-ukraine/