Star violinist-violist Pinchas Zukerman discusses his new masterclass series, as well as the role of technology in online teaching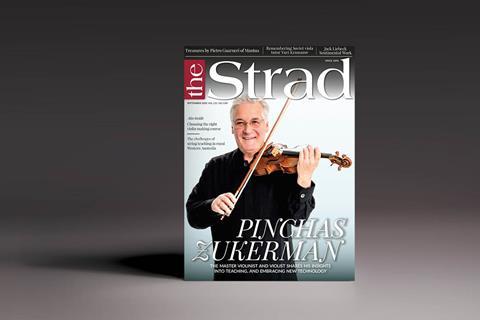 Pinchas Zukerman: The veteran violinist and violist tells Pauline Harding his views on everything from his new masterclass series to the role of technology in string teaching
International Lutherie Schools: What are the options for young violin makers looking to improve their skills? Peter Somerford talks to tutors from seven European and US schools to find out
Newark School of Violin Making: The Strad looks back on 50 years of the UK's best-known institution for lutherie and the many well-known names who have passed through its doors as students
Strings in Western Australia: Teachers in the largest, and most remote, Australian state face unique challenges. Rita Fernandes finds out why bringing strings to regional areas is worth it
Session Report: Katie Stillman and Carmen Flores of the Villiers Quartet talk to Harry White about their latest recording of works by Frederick Delius and Ethel Smyth
Pietro Guarneri of Mantua: Andrea Zanrè examines three unusual instruments that have been repurposed during their lifetimes, but still retain the Mantua maker's unique characteristics
Yuri Kramarov: The Russian violist and pedagogue was one of the Soviet era's greatest successes – but today he is almost forgotten. Misha Galaganov reassesses his legacy
In our regular sections:
In Focus: Jordi Pinto examines an unusual tenor viola made by his own great-uncle, Jacint Pinto
Trade Secrets: Luthier Fany Bourel presents a traditional way of gluing the C-bout ribs
My Space: Mechthild Ossenbrunner of Cologne
Making Matters: Andrew Ryan examines a curious detail of Cremonese archings
Masterclass: Tabea Zimmermann on the first movement of Hummel's Viola Sonata op.5 no.3
Technique: Marcos Santos on the collé stroke
Life Lessons: With violinist Carmine Lauri
Opinion: How a different discipline, such as learning a new language, can bring new ideas
Postcard from Belgium: String quartets compete in France's wine-making capital
Postcard from Helsinki: The finals of the International Jean Sibelius Violin Competition
From the Archive: From September 1892
Sentimental Work: Violinist Jack Liebeck on Prokofiev's Violin Concerto no.1 in D major
We also bring you news of the latest products and auctions, plus our regular analysis and opinion columns, and comprehensive reviews of concerts, recordings and books. Simply go to the latest magazine to explore the full content listing.
Plus, in your colossal 124-page September digital edition:
Read the Villiers Quartet's thoughts on their new recording of Delius and Ethel Smyth works in Session Report, with extra photos from the recording studio and audio clips from both quartets
Extra photos of this month's In Focus instrument, an unusual tenor viola by Barcelona luthier Jacint Pinto
More from the Sydney Opera House's gala reopening on 20 July, featuring a performance of Mahler's 2nd by the Sydney Symphony Orchestra
View the inner facets of Mechthild Ossenbrunner's workshop in My Space, based in a former lampshade factory
We report on both the Bordeaux International String Quartet Competition and International Jean Sibelius Violin Competition, with photo galleries of all the finalists
Flick through the programme for the Newark School of Violin Making's official opening, as we mark its 50th anniversary
And, with metronomic regularity, clips from the three recordings garlanded with that illustrious moniker 'The Strad Recommends'
The digital magazine and print edition are on sale now, or subscribe to access the entire magazine online here.