British violinist Nicola Benedetti speaks about launching her mass education project for string players of all ages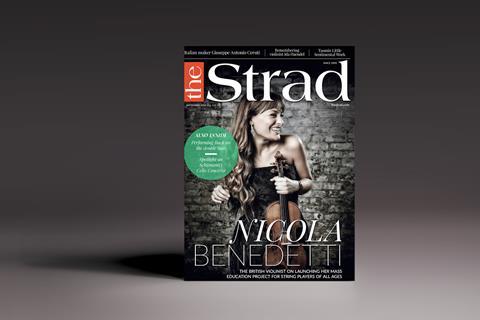 NICOLA BENEDETTI: The violinist's Benedetti Sessions have proved stunningly popular for teacher and students alike. Peter Somerford finds out how they began, and where they might lead
IDA HAENDEL: Tully Potter looks back on the life of the Polish-born British violinist who died in July aged 96, including a survey of her most memorable recordings
BACH ON THE DOUBLE BASS: With the Cello Suites becoming standard fare on the conservatoire bass syllabus, Leon Bosch explains how he teaches the monumental works to his students
GIUSEPPE CERUTI: Much has been written about Enrico Ceruti, less about his accomplished father Giuseppe. Duane Rosengard examines his style through two matching instruments
SESSION REPORT: Alexander Pavlovsky and Ori Kam of the Jerusalem Quartet tell Tom Stewart why the second part of their Bartók quartet cycle is less brutal than most
SCHUMANN CELLO CONCERTO: British cellist Josephine Knight has recently completed a new edition of concerto, referred to by its composer as 'really quite jolly'. Peter Quantrill finds out more
THE STRAD CALENDAR 2021: John Dilworth examines the twelve instruments featured in this year's calendar, all taken from the collection of Norwegian foundation Dextra Musica
In our regular sections:
In the issue's Masterclass violist Rosalind Ventris discusses Henri Vieuxtemps' Viola Sonata; in Technique double bassist Sam Suggs shows how to perfect your 'speedrunning'; Italian violinist Francesca Dego discusses the power of a good teacher in Life Lessons; plus in Sentimental Work violinist Tasmin Little explains why Brahms' Violin Concerto holds a special place in her heart.
We inspect a violin from 1899 by Paul Blanchard in In Focus; in Trade Secrets Rudolf Pilsel discusses his method for making a collar for use in creating bow buttons; My Space looks behind the scenes in the workshop of Naples luthiers Salvatore and Pasquale Mancino; and in Making Matters Jan Špidlen describes how he made an experimental violin for acoustic testing.
We also bring you news of the latest products and auctions, plus our regular analysis and opinion columns, and comprehensive reviews of concerts, CDs and books. Simply go to the current issue to explore the full content listing.
Plus, in your digital edition:
View more photos of the late Ida Haendel taken at her Florida home
More from Nicola Benedetti's recent education project, the 'Benedetti Sessions'
See a mouthwatering array of instruments taken from The Strad Calendar 2021
Close-ups of this month's In Focus instrument, a cello by Paul Blanchard
A closer look around the Naples workshop of luthiers Salvatore and Pasquale Mancino
And of course, clips from the three recordings honoured with the title 'The Strad Recommends'
The digital magazine and print edition are on sale now, or subscribe to access the entire magazine online here.