The players of the Berlin-based Leonkoro Quartet speak to Peter Somerford about their future ambitions in our cover feature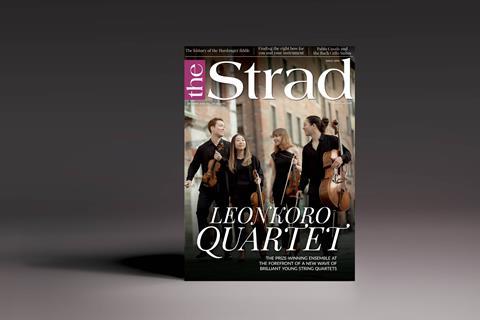 LEONKORO QUARTET Formed just four years ago, the Berlin-based foursome has already secured several top awards. Peter Somerford chats to the players about their future ambitions
THE HARDANGER FIDDLE Wiebke Lüders examines the history and development of what is considered the national instrument of Norway, with a look at some of the most famous makers
FINDING THE RIGHT BOW Musicians reveal what they look for in a good bow and how they decide whether it fits the instrument they're playing, in conversation with Jacqueline Vanasse
SESSION REPORT Johan Dalene talks to Tom Stewart about his latest BIS recording, Stained Glass, which brings together music by Bacewicz, Boulanger Pärt, Prokofiev and Ravel
CASALS AND BACH The illustrious Catalan cellist died 50 years ago this month. Oskar Falta examines his life and career, from his championing of the Bach Suites to his teaching legacy
THE STRAD CALENDAR 2024 This year's calendar showcases the treasures of the David L. Fulton collection, considered one of the finest in history. Christian Lloyd examines the instruments
In our regular sections:
IN FOCUS A c.1800 violin by Joseph Panormo
TRADE SECRETS How to use one of The Strad's posters to make a mould and templates
MY SPACE Bologna luthier Roberto Regazzi
MAKING MATTERS Making 15 transitional bows for a single chamber orchestra
MASTERCLASS Leon Bosch on Koussevitzky's Double Bass Concerto in F sharp minor
TECHNIQUE Stephen King gives tips on making the switch from learning violin to the viola
LIFE LESSONS The memories and opinions of German violist Nils Mönkemeyer
OPINION The job of an orchestra is to perform the interpretation of the visiting conductor
POSTCARD FROM BAD KISSINGEN A report from the Kissinger Sommer music festival
FROM THE ARCHIVE From October 1893
SENTIMENTAL WORK Sergej Krylov talks about his love of Shostakovich's Violin Concerto no.1
Plus, in your October 2023 digital edition:
Postcard from Bad Kissingen: view pictures from the Kissinger Sommer music festival, including Steven Isserlis, Veronika Eberle and a 'symphonic mob' conducted by Kent Nagano
Session Report: read Johan Dalene's thoughts on his new recording Stained Glass, while listening to audio clips from the album
More images from the flashmob at Battersea Power Station on 15 July, featuring young players from the World Heart Beat Music Academy and Brazil's Maré do Amanhã orchestra
Hardanger Fiddle: more beautiful 19th- and 20th-century instruments from Norway, including fiddles by Anders Kleven, Erik Johnsen Helland and Olaf G. Helland
View more highlights from The Strad Calendar 2024, including Stradivari's 'La Pucelle', the 'Conte Vitale' Andrea Guarneri viola, and the 'Kreisler' violin by Carlo Bergonzi
Making Matters: more of the 15 bows created by Markus Laine for the Vaasa City Orchestra
And clips from the three recordings adorned with the accolade 'The Strad Recommends'
The digital magazine and print edition are on sale now, or subscribe to access the entire magazine online here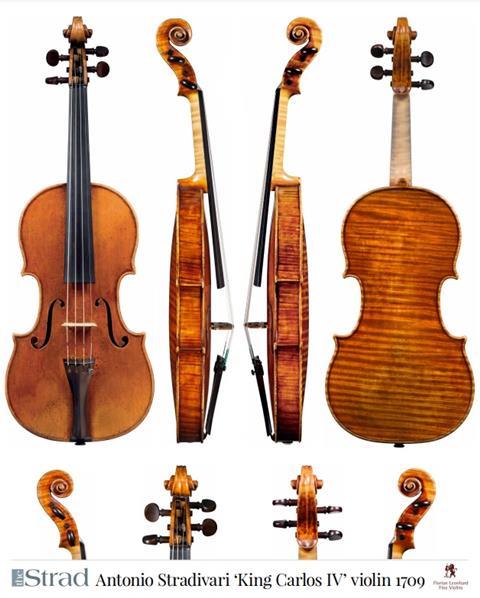 The Strad's exclusive instrument posters, most with actual-size photos depicting every nuance of the instrument. Our posters are used by luthiers across the world as models for their own instruments, thanks to the detailed outlines and measurements on the back.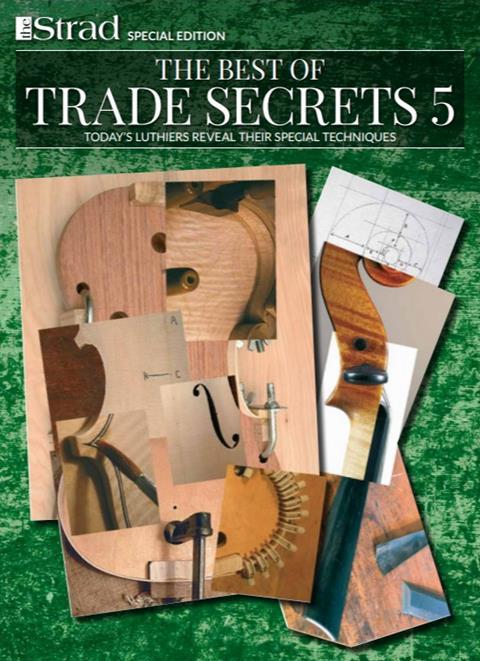 The number one source for a range of books covering making and stinged instruments with commentaries from today's top instrument experts.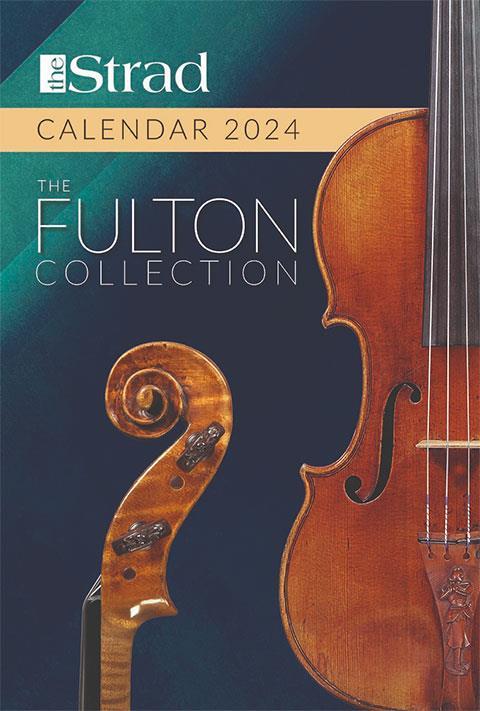 American collector David L. Fulton amassed one of the 20th century's finest collections of stringed instruments. This year's calendar pays tribute to some of these priceless treasures, including Yehudi Menuhin's celebrated 'Lord Wilton' Guarneri, the Carlo Bergonzi once played by Fritz Kreisler, and four instruments by Antonio Stradivari.