Viola player Lawrence Power talks about playing different instruments, good string teaching and why it's important to challenge conventional wisdom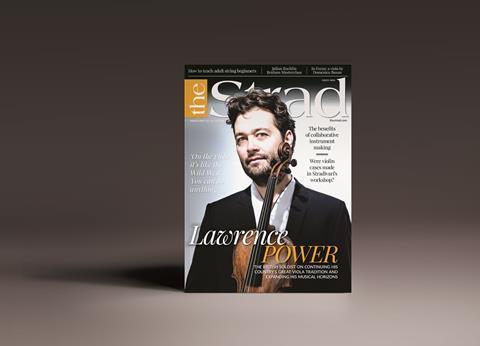 The Strad March 2018 issue is out now, in which the prominent British violist Lawrence Power talks about not snubbing the violin, teaching and being taught, and why the viola is a gift for restless and curious musicians.
Although lutherie is often regarded as a solitary pastime, we report on many makers who have been finding success in collaboration; and in the second of two articles on performing complex music, we examine the notions of the 'polyphonic performer' and the 'complete instrument'.
We also look at how to overcome the challenges and reap the rewards of teaching adult beginners, and Dimitri Musafia and Glenn Wood take us through newly understood evidence from Stradivari's workshop that instrument cases were once made there. Plus our Postcard this month comes from the second Cecil Aronowitz International Viola Competition
In our regular sections:
In Focus features a c.1776 viola by Domenico Busan; George Yu explains his method for clamping a centre joint in Trade Secrets; My Space features the workshop of Ukrainian luthier Orest Putsentela; plus measuring a piece of wood's density before carving in Making Matters.
In our monthly Masterclass, Julian Rachlin discusses the first two movements of Brahms's Viola Sonata no.1; Grigory Kalinovsky on achieving perfect articulation in the left hand in Technique; the four string members of the Schubert Ensemble tells us their Life Lessons; plus Jennifer Stumm on Rebecca Clarke's Viola Sonata in Sentimental Work.
We also bring you news of the latest competitions, products and auctions, and comprehensive reviews of concerts, CDs and books.
The digital magazine and print edition are on sale now.
Do YOU have something to say about the new issue – or about the strings world generally? If so, why not email thestrad@thestrad.com with a Letter to the Editor? Don't forget, our Letter of the Month always receives a full set of Thomastik-Infeld violin, viola or cello strings – your choice!