Bernstein and strings: The charismatic composer/conductor's rich body of work for stringed instruments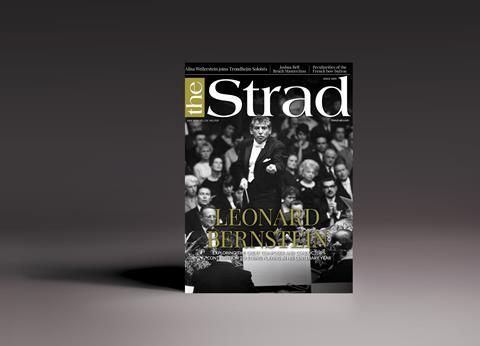 The Strad July 2018 issue is out now in which we assess the legacy of Leonard Bernstein, focussing on the excellent parts for stringed instruments within his rich body of work.
We present a detailed guide to the development of French bow buttons, following the evolution of screws, eyelets, collars and rings; and explore the possibilities of aramid, flax and carbon as alternative materials for stringed instruments, explaining how the processes are within the reach of all makers.
In the Trondheim Soloists, with cellist Alisa Weilerstein as their new artistic partner, we discover an ensemble going from strength to strength; we find out how composers and performers are responding to the string quartet in the 21st century of political upheaval, globalisation and the age of the internet; and we join Baiba Skride in the studio as she records works by three composers known for their film music: Bernstein, Korngold and Rózsa.
In our regular sections:
In Focus features a 1902 violin by Enrico Rocca; Andreas Preuss explains his method for copying the purfling of Gagliano in Trade Secrets; My Space features the workshop of Scottish luthier David Rattray; and in Making Matters, Peter Westerlund describes his novel way of completing an instrument's arching and graduations.
In our monthly Masterclass, Joshua Bell gives his thoughts on the third movement of Bruch's Violin Concerto no.1; Brian Hodges offer tips on conquering performance anxiety; British cellist Julian Lloyd Webber tells us his Life Lessons; plus Jennifer Koh tells us what Kaija Saariaho's Graal théâtre means to her in Sentimental Work.
We also bring you news of the latest competitions, products and auctions, and comprehensive reviews of concerts, CDs and books.
The digital magazine and print edition are on sale now.
Do YOU have something to say about the new issue – or about the strings world generally? For your chance to win a bundle of premium accessories, send letters to the editor at thestrad@thestrad.com.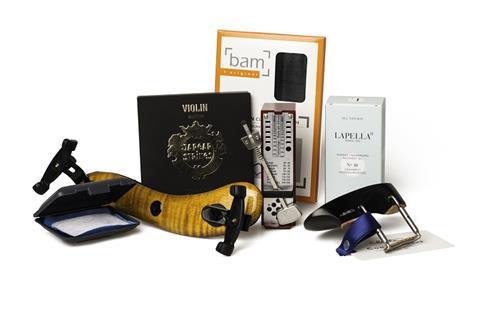 Letter of the Month wins:
Stretto Humidifier
VLM-Augustin Diamond Shoulder Rest (violin or viola)
Wittner Super Mini Taktell Metronome
Jargar Superior String set (violin, viola or cello)
BAM Cleaning Cloth
Götz New Flesch Chinrest with titanium screws (violin or viola)
Lapella Fingerboard Oil