The youngest winner is seven-year-old Himari Yoshimura from Japan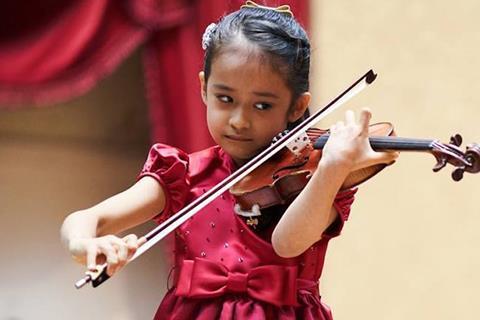 The International Grumiaux Competition for Young Violinists, which is split into four age groups, for those aged under 10, 13, 17 and 21 respectively, has announced its winners.
In Category A, 1st Grand Prize went to seven-year-old Himari Yoshimura from Japan, who played an excerpt from the 1st movement of Paganini's Concerto no.1. The other prizes were distributed as follows:
CATEGORY A
1st Grand Prize
Yoshimura Himari (7, Japan)
1st Prize
Kai Gergov (8, Bulgaria/Japan)
Nguyen Nguyen Le (10, Vietnam)
2nd Prize
Anton Carus (10, United States)
Sumin Kim (10, Korea)
Riisa Nakahara (10, Japan)
3rd Prize
Anisiya Artemova (9, Russia)
Khanui Erdenebat (10, Mongolia)
Defne Güngör (9, Turkey)
Nil Ipek Şabi (10, Turkey)
CATEGORY B
1st Prize
Bianca Ciubancan (13, United States/Romania)
Naz Irem Turkmen (12, Turkey)
2nd Prize
Cha Hyu (12, Korea)
Tao-Yuan Hsiao (11, Taiwan)
Emiri Kakiuchi (12, Japan)
3rd Prize
Seoyul Kim (11, Korea)
Zofia Olesik (13, Poland)
Milena Pioruńska (14, Poland)
CATEGORY C
1st Prize
Kyota Kakiuchi (15, Japan)
2nd Prize
not awarded
3rd Prize
Leonid Anikin (18, Russia)
Juseon Kim (16, Korea)
Miquel Muñiz Galdón (17, Spain)
CATEGORY D
1st Prize
2nd Prize
Rika Tanimoto (18, Japan)
3rd Prize
Taishin Yamamoto (19, Japan)
The jury, chaired by Igor Tkatchouk, also awarded a special prize for the best interpretation of a Belgian work to Samuel Hirsch.
The competition took place at the Royal Conservatory of Brussels from 7th to 10th March. Previous laureates include Daniel Lozakovich, Lara Boschkor, Olga Šroubková and Sumina Studer.