41 candidates take part in the opening round of this year's competition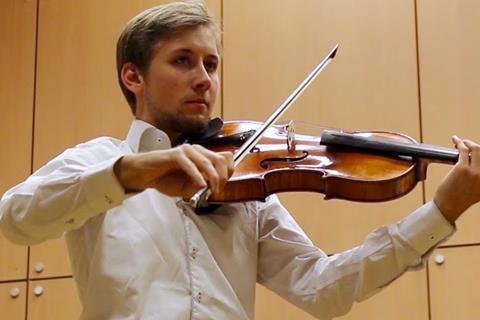 This year's Rubinstein International Viola Competition, which will be held in Dusseldorf, Germany, from 4th-5th May 2019, has announced its 41 opening round candidates.
They are:
Yerim An (South Korea)
Momoko Aritomi (Japan)
Sharon Avella Herrera (Colombia)
Mieszko Baszczak (Poland)
Vittorio Benaglia (Italy)
Giulia Bombonati (Italy)
Valentin Chiapello (France)
Nadezhda Chumovitckaia (Russia)
Jakob Dingstad (Norway)
Stephanie Drach (Austria)
Kazuki Hashimoto (Japan)
Jannis Hoesch (Germany)
Younho Hong (South Korea)
Brian Isaacs (United States)
Alexandra Ivanova (Russia)
Gijoon Jo (South Korea)
Annariina Jokela (Finland)
Koji Kanada (Japan)
Dongyeob Kang (South Korea)
Wontae Kim (South Korea)
Eunbit Ko (South Korea)
Isabel Kreuzpointner (Germany)
Mengzhen Li (China)
Shuchen Liu (China)
Ganna Lysenko (Ukraine)
Johanna Maurer (Germany)
Lazar Miletic (Serbia)
Deokjin Oh (South Korea)
Simona Ruisi (Italy)
Fridolin Schöbi (Austria)
Mk Sung (South Korea)
Erin Louise Torres (South Africa)
Taihei Wada (Japan)
Yanan Wang (China)
Yifei Wang (China)
Wenbo Xin (China)
Daichi Yoshimura (Japan)
Mingyue Yu (China)
Dan Zhang (China)
Yishi Zhao (China)
Ekin Özcan (Turkey)
Open to international violists of all ages and nationalities, the annual competition takes place in the Concert Hall of the International Anton Rubinstein Music Academy in Dusseldorf.
A maximum of twenty candidates will proceed to the final round in which they will present a programme of their choice lasting up to 30 minutes, with three prize winners receiving a one year loan of a fine bow.
The 2019 jury will comprise: Alexander Akimov, Yury Bondarev and Friedemann Hecker.