Yu Zhao Gu was sitting beside his wife when he fell from his seat mid-performance – fundraiser launched to help with medical bills and funeral costs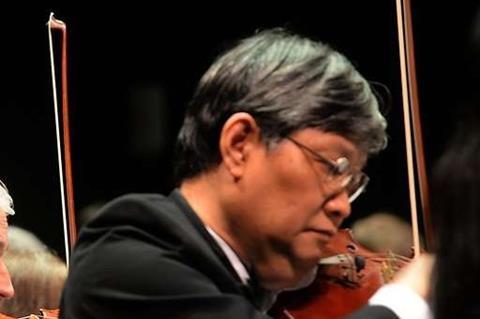 During the final concert of the season on Saturday evening, Yu Zhao Gu, a 1st violinist from the Symphony of Southeast Texas Orchestra, died suddenly onstage from a heart attack. He was 60 years old.
Originally from China, Yu and his wife Ying Zhao, with whom he shared a stand, had been a member of the orchestra for more than two decades. The couple lived in Houston and played with a number of other regional orchestras.
After Yu fell from his seat in Beaumont's Julie Rogers Theatre, musicians and audience members rushed to his aid. Doctors from the audience attempted to resuscitate him until paramedics arrived.
Members of the orchestra have launched a GoFundMe page to help with Yu's medical and funeral costs.
'Yu and Ying have been playing with the symphony for well over a decade and as regular members of the Galveston, Corpus Christi, Lake Charles, and Victoria symphonies. The first to say hello at rehearsal, Yu could always be counted on to greet you with a smile and a word of encouragement,' the GoFundMe site states.
'The passing of Yu is devastating for our orchestra and all those he has touched, as we truly are a family. We would like to come together in support of Ying to help cover these exorbitant and unexpected medical bills, funeral costs, and countless other expenses.
'While no amount of money will help ease this loss, we hope to at least be able to give Ying peace of mind that she is not alone and her musical family and community are here for her during her time of need.'
In addition to his wife, Yu leaves a son, who is a student at the University of Houston.