Cellist was on the Butler School of Music faculty for over 50 years and director of the UT String Project for 35 years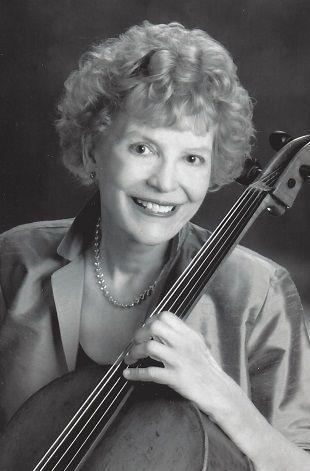 This obituary was released by the University of Texas at Austin's Butler School of Music
One of the Butler School of Music's most distinguished emeritus faculty members has passed away. Phyllis Young, Professor Emerita of Cello and String Pedagogy, who was the first holder of UT's Parker C. Fielder Regents Professorship in Music, died on Wednesday, November 8, 2017, in Austin at the age of 92. She was born Phyllis Casselman on Oct. 20, 1925, to Velma Stewart and Philip James Casselman, in Milan, Kansas, and raised in Conway Springs, Kansas. Deciding to pursue a career in music, she earned B.M. and M.M. degrees in cello performance from UT Austin, where she studied under her beloved cello professor Horace Britt. She also studied at the Paris Conservatory and the Chigiano Academy in Siena, Italy. She was a UT Music faculty member from 1953 until her retirement in 2007 and was one of the first women at UT to be promoted to full professor. In addition to her private cello studio, Mrs. Young established the Texas Cello Choir and directed the renowned UT String Project for 35 years, seeing it become a world-wide model for programs that train string teachers and young string players. Her former students hold positions in major universities, schools, and orchestras in the U.S. and abroad, including the New York Philharmonic.
Professor Young was President of the American String Teachers Association 1978-80 and spent additional two-year terms as President-Elect and Past President. Her first book on string pedagogy, Playing the String Game: Strategies for Teaching Cello and Strings, published in 1978, went through multiple printings and was translated into more than half a dozen foreign languages. Her second book, The String Play: The Drama of Playing and Teaching Strings, appeared in 1986, and she authored numerous articles in professional journals. She gave hundreds of invited workshops and master classes in more than 33 countries around the world and in most states of the U.S. Mrs. Young received many honors and awards for her work, including the Distinguished Service Award of the American String Teachers Association in 1984. She was honored in 2000 by Indiana University's Eva Janzen Memorial Cello Center with the title "Grande Dame du Violoncelle," and in 2002 she received the Paul Rolland Lifetime Achievement Award from ASTA and the National School Orchestra Association. She is listed in Who's Who in America and similar publications and was the subject of a doctoral dissertation done at Boston University in 2010.
Beginning in 1945, for 46 years Phyllis was married to James M. Young, a World War II Air Force veteran and one of the founders of Tracor, who died in 1991 after many years of disability from multiple sclerosis. She was predeceased by her parents and a brother. She leaves a sister-in-law, Madge Casselman, and a nephew, David M. Casselman, both in Arlington, Texas, and a niece, Marsha C. Dickson, in Newark, Delaware as her primary relatives.