14-year-old cellist Bhargava R. Kulkarni wins a cash prize and a performance opportunity with the Ann Arbor Symphony Orchestra in 2023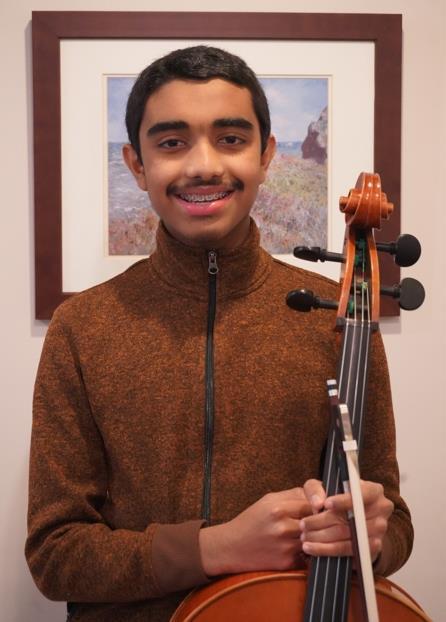 Read more news articles here
The Ann Arbor Symphony Orchestra (A²SO) has announced 14-year-old cellist Bhargava R. Kulkarni as the winner of its 2022-23 Young Artist Competition. Seven finalists competed on 3 December 2022 at Eastern Michigan University, with the winner receiving a $500 cash prize and the chance to perform at the A²SO's Link Up: The Orchestra Moves youth concert on 21 March 2023 at Hill Auditorium in Ann Arbor.
Violinists Peter Fazekas and Andrew Maxwell were selected as co-runners-up, and both received a $150 prize.
'Every young artist presented a superb performance—it was a thrill to hear so much young talent in one place,' said Tim Michling, the A²SO's principal oboist and competition jury panelist. 'The competitors presented a wide variety of repertoire, from the classical period onward to modernity, and the overall high level of quality and preparation created a difficult challenge for judging.'
Fellow jury member and A²SO violinist Linda Etter agreed: 'It was truly a pleasure to hear such well-prepared and poised young performers, all showing years of dedication to learning and practicing. [The competition jury] heard major repertoire from each of them, played at a high level. The future of classical music is bright with students of this calibre.'
A student at Okemos High School in Okemos, Michigan, Kulkarni began learning cello at the age of four in a local Suzuki program before continuing his studies with Horacio Contreras and Richard Aaron. For the past five years, he has studied with Amir Eldan of the University of Michigan. His repertoire includes concertos by Haydn, Elgar, Davidov, Kabalevsky, Saint-Saens and others, plus shorter concert works and chamber music pieces.
Applications were open to students in grades 7-12 and who resided in or attended school in the states of Michigan, Ohio, and Indiana during the 2022-2023 school year.