The competition's 20th edition saw string players take the top three prizes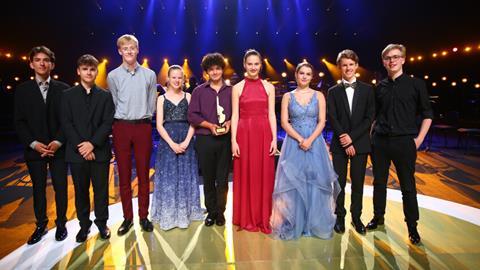 The 2022 edition of the Eurovision Young Musicians competition took place on 23 July in Montpellier, France. Although traditionally held every two years, the competition had a four-year hiatus due to the pandemic, with the last edition taking place in 2018. It was also the first time France hosted the event. The competition is open to classical musicians ages 12–21 and this year included competitors from nine European Broadcasting Union members: Czech Republic, Norway, Germany, Croatia, France, Poland, Austria, Belgium and Sweden. The competition was produced by Morgane Productions for France Télévisions.
First prize was awarded to Czech violinist Daniel Matejča, 17, following a performance of Shostakovich's Violin Concerto no.1. He also won €1,000 and a professional performance opportunity at the Festival Radio France Occitanie Montpellier later this month. Second place was awarded to German cellist Philipp Schupelius, 19, while third place went to violinist Alma Serafin Kraggerud, 15 (daughter of Norwegian violinist Henning Kraggerud). Other string competitors included cellist Maxime Grizard from France, violinist Milena Pioruńska from Poland and cellist Thaïs Defoort from Belgium.
The jury was chaired by Lithuanian pianist Mūza Rubackytė, and also consisted of violinist Tedi Papavrami, cellist Christian-Pierre La Marca, director of the Festival Radio France Occitanie Jean-Pierre Rousseau, and oboist Nora Cismondi.
The competition, which was originally inspired by the BBC Young Musician of the Year award, was founded in 1982 and first held in Manchester, UK. Since then, it has been hosted by Austria, Germany, Switzerland, Denmark, the Netherlands, Belgium, Poland, Portugal, Norway, and now France. Notable past winners include British cellist Natalie Clein and Lithuanian violinist Julian Rachlin.