Alina Ibragimova and the Castalian String Quartet were among the winners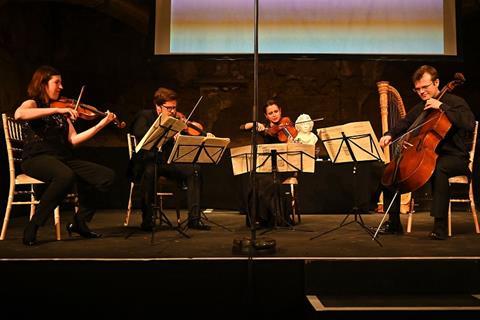 String players were amongst those honoured in last night's 2019 RPS Awards. They included Alina Ibragimova in the Instrumentalist category and the Castalian String Quartet in the Young Artists category.
A panel citation referred to Ibragimova as 'a world champion of breath-taking artistry and integrity, entirely authentic, individual and mercurial,' noting that in all the violinist's performances 'she brings the whole room right to the core of the music.'
The Castalian String Quartet, meanwhile, was praised for its 'thoughtful, intelligent music-making at the highest level'. The citation continued: 'The Castalian String Quartet have a strong identity, sound and style, and it's great to see them getting out and connecting with audiences nationally through Britain's precious network of music societies, bringing such consistency to a broad repertoire from Thomas Adès to blazingly fresh Haydn.'
Further recipients included Mirga Gražinytė-Tyla, who won the conductor award and Chineke! – Britain's first majority Black and Minority Ethnic orchestra – who became the first ever winners of the new Gamechanger Award, presented for inspirational and transformative work breaking new ground in classical music. The RPS gold medal was presented to Sofia Gubaidulina - the very first time it has been received by a female composer.
The Castalian String Quartet also performed live during the Awards, playing the Finale from Haydn's String Quartet in G, Op.76, No.1.