Upshaw will commence his role as professor of viola in September for the 2022-23 academic year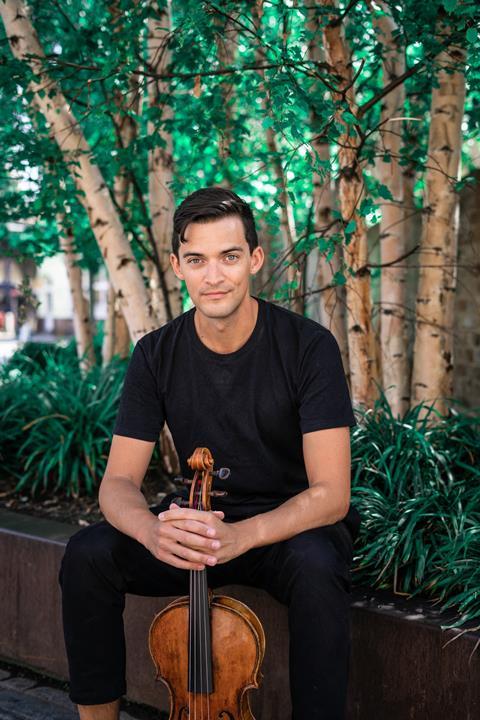 American violist Stephen Upshaw joins London's Trinity Laban Conservatoire of Music and Dance as professor of viola.
Upshaw has enjoyed a close relationship with the conservatoire since holding the Trinity Laban Carne Trust Junior Fellowship 2016-17, returning frequently to deliver masterclasses and workshops.
He is a member of the Solem Quartet and London's Riot Ensemble and has worked closely with many of today's leading composers, including John Adams, George Benjamin and Errollyn Wallen. He aims to focus his teaching on contemporary repertoire, as a noted interpreter of new music both as a soloist and chamber musician,
'In recent years I have had the pleasure to work regularly at Trinity Laban with the Solem Quartet, Riot Ensemble and on individually designed projects focused on collaboration and innovation. I am thrilled to be joining the music faculty professorial staff and look forward to creating opportunities within the department to nurture and encourage students in what it means to be a 21st century musician,' commented Upshaw
'I am excited to develop a class of violists who are hungry to delve into the world of contemporary music and who are ready to take advantage of the many unique and creative offerings the Trinity Laban curriculum provides.'
With a strong interest in interdisciplinary collaboration, Upshaw led a project for CoLab 2022 which saw him and fellow Solem Quartet musicians work alongside TL string composition and dance students to co-create Bela Bartok Now: Song & Dance. Inspired by the quartet's Beethoven Bartok Now concept, which uniquely reimagines classical works with music from composers of today, it wove together existing music from Bartok, Beethoven and living composer Jasmine Morris, culminating in an hour-long performance side-by-side at Blackheath Halls.
A native of Atlanta, Upshaw studied with Dr. Marilyn Seelman before earning a BMus (Hons) from the New England Conservatory in Boston under the tutelage of Carol Rodland and Martha Strongin-Katz. Stephen completed his postgraduate studies in the class of David Takeno at the Guildhall School of Music and Drama, where he was elected a Junior Fellow and won a Guildhall Scholarship. Chamber Music mentors include Paul Katz, Ferenc Rados, Alasdair Tait and members of the Takacs, Belcea, Endellion, and Arditti Quartets.
He plays a 1715 Daniel Parker school viola currently made available to him by the Stradivari Trust.