Some of the biggest names in the string world descend upon the capital for the new season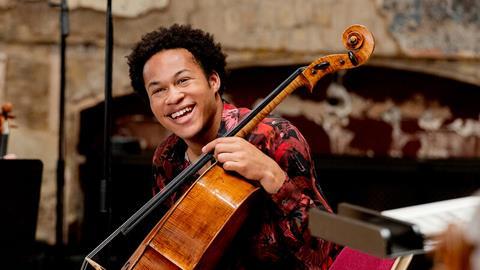 Read more news articles here
London's Southbank Centre has released details of its Classical Music Spring/Summer 2023 season, a varied programme of over a hundred events, bringing some of the industry's biggest names to the city.
Southbank's resident artist Sheku Kanneh-Mason features heavily in the season in a mixture of paid and free events. Joining Philharmonia musicians and climate campaigner Love Ssega, Kanneh-Mason talks about how music has been used to ignite debate and action on crucial issues throughout history, in Southbank's Insights Day: Music, Protests and Change. As the Philharmonia's featured artist, Kanneh-Mason will perform a number of concerts with the orchestra over the season including Bloch's Schelomo and a performance of Heitor Villa-Lobos' Bachianas Brasileiras with the Philharmonia's cellos.
The Strad's recent featured artist, Abel Selaocoe continues his residency at the centre with two performances in February and May, joined by musicians including Dudu' Kouate and Kit Downes, and the Southbank Centre's resident orchestra, Chineke! Orchestra. In May, Selaocoe will join forces with Seckou Keita for a brand new concerto composed by the pair for cello, kora and orchestra.
'With our Spring/Summer 2023 programme, we are continuing to live up to our responsibility to ensure a vibrant future for the art form,' Southbank's new head of classical music, Toks Dada said. 'The Spring/Summer season brings new opportunities for us to celebrate classical music in all its forms. Building on their incredible performances in Autumn/Winter, we are pleased to see the return of resident artists Abel Selaocoe, Daniel Pioro and Sheku Kanneh-Mason as well as new names like Alice Sara Ott.
'Beyond the incredible talent in store for Spring/Summer, such as Mitsuko Uchida and Anne-Sophie Mutter, we are incredibly proud of the breadth of our programming with engaging shows for families, cutting-edge premieres and commissions and more alongside true classics of the canon.'
Previous featured artist in The Strad violinist Elena Urioste joins Chineke! Orchestra, with Samuel Coleridge-Taylor's Violin Concerto whilst chamber music plays a large part of the new season. Anne-Sophie Mutter returns with cellist Maximilian Hornung and pianist Lambert Orkis, for a concert inspired by the ghosts of 19th-century chamber music including Beethoven's Piano Trio in D, also known as the Ghost Trio. Nicola Benedetti, Sheku Kanneh-Mason and Benjamin Grosvenor close the Philharmonia's season with Beethoven's Triple Concerto.
Mark Ball, artistic director at the Southbank Centre said: 'With our Spring/Summer programme, we continue to champion classical music for the 21st century, with a programme infused with the excitement of new work, new ideas and inventive and accessible formats to appeal to new, younger audiences'.
A full list of the Classical Music Spring/Summer 2023 can be found on the Southbank Centre website: www.southbankcentre.co.uk/whats-on