Originally due to be held this month, the competition will now occur in December 2022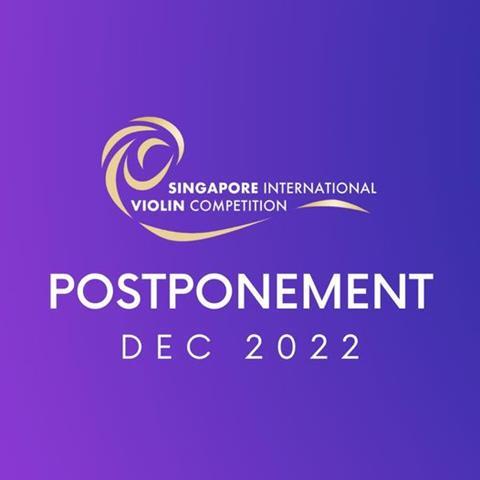 The Singapore International Violin Competition will be postponed for almost one year due to the surge of Omicron cases worldwide and heightened travel restrictions impacting international participants.
The new dates are as follows:
First Rounds: 1-6 December 2022
Semi-Finals: 8-9 December 2022
Finals: 11-12 December 2022
Grand Final: 14 December 2022
'This has been a painful decision to make, given the immense trust and support from our candidates, jury members, donors, partners and sponsors, which has brought us so close to realising the event despite the complex circumstances. Particular heartfelt thanks to our venue and performance partners as well as government agencies, who have worked closely with us throughout the planning process and evolving situation'
Over USD $110,000 in prizes will be up for grabs for the top six finalists, including concert engagements, as well as three-year loans of fine Italian violins, including instruments by Stradivari, Tononi, Guadagnini and Montegnana.
Launched in 2014, the competition is open to violinists below the age of 30. The 2018 first prize winner was Sergei Dogadin.