14 violists from 10 countries will compete for the chance to perform Stamitz or Hoffmeister Viola Concerto with orchestra in the final round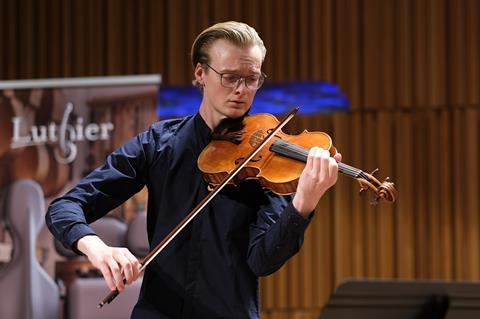 The 14 semi-finalists have been announced for the 2022 4th Oskar Nedbal International Viola Competition. The competition will be held live in Prague, Czech Republic from 29 September to 2 October 2022.
The 2022 semifinalists are:
1. Yibo Cao (China)
2. Oscar Edin (Sweden)
3. Duleen van Gunsteren (Netherland)
4. Wenhan Jiang (China)
5. Takehiro Konoe (Japan/Netherland)
6. Hwayoon Lee (South Korea)
7. Yat Lee (Hong Kong)
8. Laura Liu (USA)
9. Ilias-Ion Livieratos (Greece)
10. Wilhelm Magner (Canada)
11. Nicol Miekus (Poland)
12. Kyungsik Shin (South Korea)
13. Joseph Skerik (USA)
14. Yuri Yoon (South Korea)
The competition is open to violists of any nationality up to the age of 30. As well as cash prizes totaling CZK 110,000 (£3,800), laureates will receive a fine viola bow by Luboš Odlas, a viola case by GEWA, strings, rosins and Korfker Rest by Pirastro and future concert opportunities.
The final round will see contestants perform viola concertos by either Stamitz or Hoffmeister with the Carlsbad Symphony Orchestra.
The 2022 jury will comprise Lars Anders Tomter (Norway), Tim Frederiksen (Denmark), Kristina Fialová (Czech Republic), Lech Antonio Uszynski (Switzerland/Poland) and Jan Pěruška (Czech Republic).
No first prize was awarded at the 2021 edition, with Werodnika Dziadek and Ami-Louise Johnsson sharing second prize. The previous winners from 2020 and 2019 are Nicholas Algot Swensen and MinGwan Kim respectively.