Our June 2022 cover stars join the roster for North American representation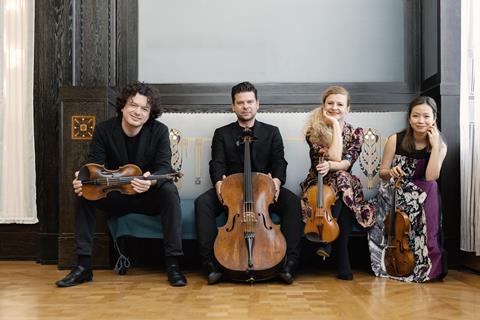 The Pavel Haas Quartet, comprising violinists Veronika Jarůšková and Marek Zwiebel, violist Luosha Fang and cellist Peter Jarůšek, has joined US-based Kirshbaum Associates for North American representation.
The move coincides with the ensemble's 20th anniversary, during which the members have recorded and released Brahms: Quintets Op. 34 & 111 for the Supraphon label, featuring pianist Boris Giltburg, winner of the 2013 Queen Elisabeth Competition.
'The way they lean into every note is the same approach I take in my solo playing,' said Giltburg on their recent collaboration. 'Very often you just have to find a way into how a quartet works and quickly put something together. With them it's different; I feel very much part of the group. They're just such warm and lovely people.'
In the 2021/22 season the quartet will return to major venues including Wiener Musikverein, Konzerthaus Berlin, Elbphilharmonie Hamburg, Wigmore Hall, De Bijloke, Flagey, Muziekgebouw and festivals such as the Dresden Music, Schubertiade, West Cork. Further tours will be to the West Coast of United States and Canada in March 2022.
Beginning in September 2022, the Pavel Haas Quartet will be Artists in Residence at the Dvořák Prague Festival for three years. They will curate the chamber music concerts including programming all the Dvořák String Quartets and chamber music works over the three seasons.
The quartet has enjoyed success throughout its 20-year career. The ensemble won the Paolo Borciani Competition in Italy in 2005, were nominated as ECHO Rising Stars in 2007, participated in the BBC New Generation Artists scheme between 2007-2009 and won the Special Ensemble Scholarship from the Borletti-Buitoni Trust in 2010.
The quartet are based in Prague and studied with the late Milan Skampa, the violist of the Smetana Quartet. They take their name from the Czech composer Pavel Haas (1899-1944) who was imprisoned at Theresienstadt in 1941 and died at Auschwitz three years later.