Arseniy Strokovskiy also alleged that some videos submitted by him and his duo partner were not watched at all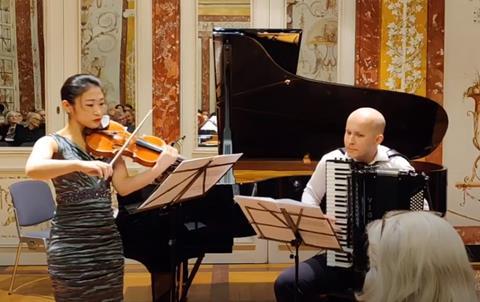 An entrant to the online Ysaÿe International Music Competition 2021 has complained of his treatment by the competition jury. Writing on his Facebook page, accordionist Arseniy Strokovskiy alleged that each of the two videos he submitted in the competition's Chamber Music category had been viewed just once, and both for less than 30 seconds.
According to Strokovskiy, who performs with violinist Michiru Soeda as 'Duo AMuse', the duo paid the €140 fee to enter the competition. In addition, Soeda submitted video performances of Paganini's Caprice no.23 and the Chaconne from Bach's Partita no.2 in the competition's Solo Violin section, for which she paid a further €110. 'The videos by our Duo were opened only once, each view was for 22 and 23 seconds (!!), which is a bit more than 2 % (!!) of the full length of the videos sent,' he wrote. 'Furthermore, one of [Soeda's] solo videos had no views whatsoever at the moment when the results were published.' The Facebook post wasas accompanied by screenshots from his YouTube Analytics page.
Strokovskiy ended his Facebook post by stating his intention to file a lawsuit against the competition organisers, seeking a refund, a cancellation of the competition results, 'as well as to demand the initiation of a fraud case'.
Speaking to The Strad, competition director Elena Lavrenova said that seven of the nine jury members were involved in the pre-selection, and all were obliged to give comments on every video, all comments being signed and delivered to the competition organisers. Lavrenov also suggested one reason why YouTube Analytics might have recorded only one view: all seven jury members watched the video together in a Zoom meeting, so that they could discuss the playing in real time. There were around 300 entrants to the violin and chamber music in total, with 59 progressing to the semi-finals.
The finals of the Ysaÿe Competition are taking place this week, and are being live-streamed at https://www.ysaye-competition.com/semifinalists-2021 . The award ceremony will take place at 8pm on 9 July. The jury for this edition are:
Philippe Koch (Luxembourg, chair), Philippe Lehaen (Belgium, secretary), Robert Stepanian (France), Ori Epstein (Israel), Mikhail Yakovlev (Switzerland–Russia), Johanna Pichlmair (Austria), Jean-Marc Onkelinx (Belgium), Alexei Moshkov (Russia), George Tudorache (Romania–Belgium) and Ashot Khachatourian (Armenia).