The Balourdet and Leonkoro quartets received the €10,000 second prize, while the Adelphi Quartet came third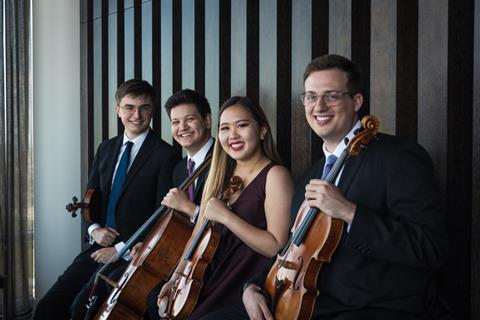 The jury of the Premio Paolo Borciani in Reggio Emilia, Italy, chosse not to award a first prize at this year's competition. Instead, the Balourdet and Leonkoro quartets each received the €10,000 second prize, while the Adelphi Quartet received €5,000 for coming third. In addition, the Leonkoro received the audience prize, worth €2,000, and the €3,000 special prize for the best performance of the commissioned piece, Toshio Hosokawa's UTA-ORI. Weaving Song, went to the Arete Quartet. The Adelphi Quartet also took the Under 20 prize of €1,000.
Made up of violinists Angela Bae and Justin DeFilippis, violiat Benjamin Zannoni and cellist Russell Houston, the Balourdet Quartet (above) was recently named a winner of the 2021 Concert Artists Guild Virtual Competition. The Leonkoro Quartet comprises violinists Jonathan Schwarz and Amelie Wallner, violist Mayu Konoe and cellist Lukas Schwarz. In 2019 they received the first prize and Adolfo Betti Award for best string quartet at the Virtuoso & Belcanto Festival chamber music competition in Lucca, Italy.
This year's jury was chaired by Emmanuel Hondré and comprised Martin Beaver, Francesco Dillon, Antoine Tamestit, Anthea Kreston, Jana Kuss and Alexander Lonquich.
Read: Prizes announced at the Irene Steels-Wilsing Foundation string quartet competition
Read: String quartets revealed for 2021 Trondheim Competition
Read: Eos Quartet wins 2020 Orpheus Chamber Music Competition