Violinists Chloé Kiffer and Xiao Wang will join the faculty of their alma mater in autumn 2023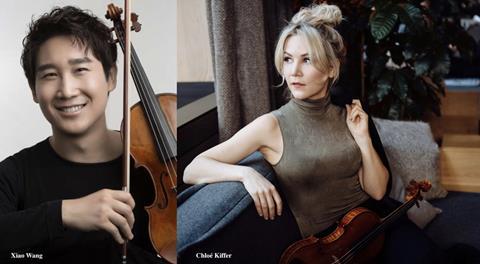 Read more news articles here
Manhattan School of Music (MSM) has announced that violinists - both MSM alumni - Chloé Kiffer and Xiao Wang will join the school's strings faculty, led by chair Nicholas Mann.
The two appointments follow several high-profile faculty additions announced by the school in recent months, including two other violin appointments: Emerson Quartet founding member Eugene Drucker and Harlem Quartet founding member and MSM alumnus Ilmar Gavilán.
'Chloé and Xiao are wonderful new additions to our impressive and inspiring strings faculty at MSM,' said department chair Nicholas Mann. 'These two newest faculty appointments, in addition to other recent additions to the department, such as Eugene Drucker and Ilmar Gavilán, are building on a tradition of excellence that runs deep in this institution.'
Xiao Wang was first-prize winner of the 2012 Szigeti International Violin Competition and a Laureate of both the 2015 Queen Elisabeth Competition and the 2015 Seoul International Competition. He earned his bachelor's and master's degrees and artist diploma from MSM.
Chloé Kiffer is a soloist and orchestral and chamber musician who has performed around the world and throughout the US. She earned her master's degree and professional studies certificate from MSM. Earlier in 2022, Kiffer joined the faculty at University of North Texas (UNT) College of Music
Both Wang and Kiffer are already members of the MSM Precollege Division faculty and will assume their new teaching duties with the college at the start of the autumn 2023 semester.
In addition to these and other faculty appointments, longtime concertmaster of the Met Opera Orchestra David Chan assumed the mantle of leadership of MSM's graduate programme in orchestral performance; the programme, which was formerly chaired by Glenn Dicterow, is the first accredited degree programme of its kind in the United States and recently celebrated its 30th anniversary.