The cellist will be director of culture at the UNESCO Heritage site Stevns Klint Visitor Centre from 1 April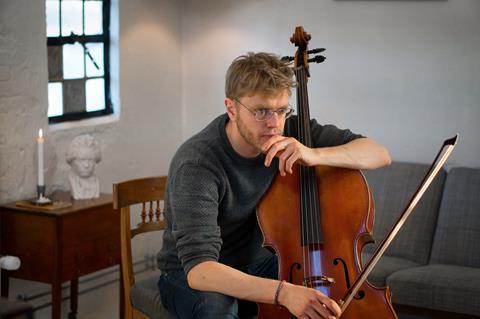 Jacob Shaw has been announced as director of culture at the Stevns Klint Visitor Center.
In partnership with the Scandinavian Cello School, of which Shaw is director, the Stevns Klint Visitor Center will run cultural events that will focus on biodiversity, climate change and sustainability. Taking on the role from 1 April, Shaw will plan cultural development projects, with the centre opening in October 2022.
Upon his appointment, Shaw said,' Living at Stevns has changed my life – and even more with this appointment. Experiences that change people's knowledge and life is precisely the goal of our work: cultural experiences that invite people in, fascinate and translate the central communication at Stevns Klint Visitor Center.
'I can't wait to get started, working alongside the team of World Heritage Stevns' talented employees, and together ensuring our visitors a completely unique experience.'
Stevns Klint is a white chalk cliff running about 17km long on the Danish island of Zealand, approximately one hour from Copenhagen. It has enjoyed UNESCO World Heritage status since 2014 due to its fossil record of the devastating asteroid that collided with Earth 66 million years ago.
Shaw has enjoyed recognition for numerous festivals, educational projects, cultural development and social activities that he has organised. He has been nominated for business awards at local, regional and national levels including the 'Firesoul Personality' award from Danish Radio P2.
Born in London, Shaw attended the Yehudi Menuhin School, followed by studies at École Normale de Musique de Paris. He has enjoyed an international career performing and teaching worldwide, including being professor of cello and holding the 'Cassado Chair' at the Academia Marshall in Barcelona. Shaw formed the Scandinavian Cello School in 2016, a foundation which promotes and supports young cellists in residential projects.