The orchestra has recruited section leader viola and principal cor anglais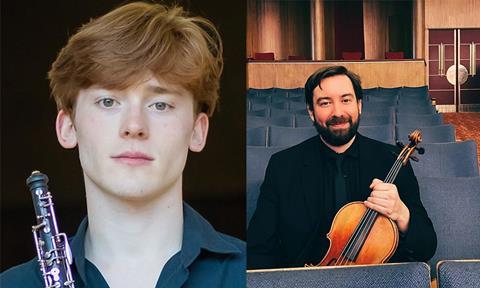 Read more news articles here
The Royal Liverpool Philharmonic Orchestra (RLPO) has appointed Nicholas Bootiman and Drake Gritton as section leader viola and principal cor anglais respectively.
Violist Bootiman has shares the section leader role with Catherine Marwood. He studied at the Royal College of Music in London and held a principal position with the Philharmonia Orchestra for over a decade. He is the co-founder and artistic director of Echor Music, a chamber orchestra and arts charity based in the Chiltern Hills.
Cor anglais player Gritton will start his role in autumn 2023. A recent graduate of the Royal Academy of Music, he has performed with the Royal Philharmonic Orchestra, guest principal oboe with the Royal Opera House Orchestra and Cor Anglais with the Philharmonia Orchestra.
'We are delighted to welcome these fine musicians to the Royal Liverpool Philharmonic Orchestra and to Liverpool,' said Michael Eakin, chief executive of the RLPO. 'To attract players of such quality is testament to the global acclaim for their music-making that our Orchestra has achieved, and to the pool of music and wider creative industries talent and excellence, on and off stage, that we are continuing to bring to our city.'
The RLPO is the UK's oldest continuing professional symphony orchestra, with its original concert series dating back to 1840. Its current chief conductor is Domingo Hindoyan, who took up the role in 2021.